McDonald survives furious Lowellville rally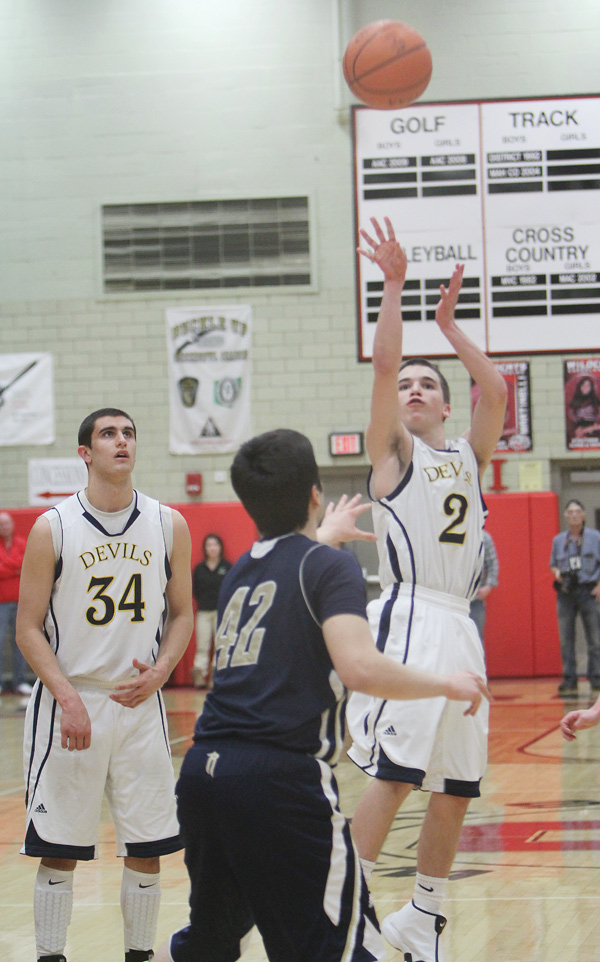 ---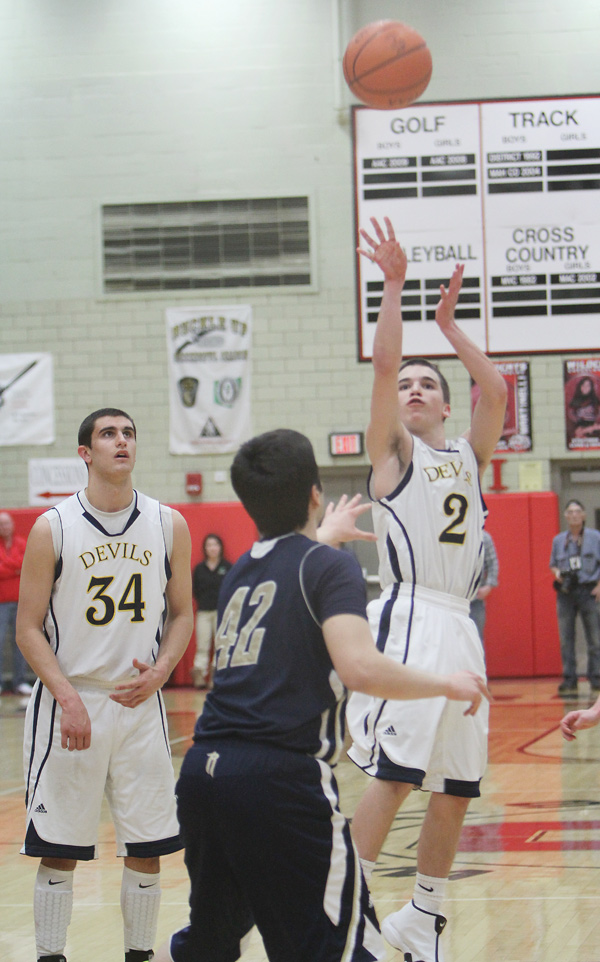 Photo
McDonald's Kenny Greaver, left, watches as teammate Anthony Pugh shoots over Lowellville defender Paolo DePasquale during the first quarter of their Division IV district semifinal Tuesday at the Struthers Fieldhouse. The Blue Devils held off the Rockets, 75-67.
McDonald's early surge just enough to win
By Steve Wilaj
STRUTHERS
McDonald High's Matt Seitz needed just one simple sentence to describe the Blue Devils' first quarter that included seven forced turnovers, layup-after-layup, a vicious Seitz dunk, a wild crowd and a 30-foot buzzer-beating 3-pointer by Anthony Pugh.
"Oh yeah, we took it to them," Seitz said of the first eight minutes.
Did they ever.
Paced by a 28-2 first quarter advantage, the Blue Devils hung on to defeat Lowellville, 75-67, in a Division IV district semifinal on Tuesday at the Struthers Fieldhouse.
Although the Rockets outscored McDonald 65-47 the rest of the way, free throws by Pugh and Seitz iced the game with under a minute remaining. Those came after a missed Lowellville free throw and 3-pointer with the deficit cut to five points.
"We prayed a lot," Blue Devils coach Jeff Rasile joked about holding on. "We made a couple plays when we had to, but we just couldn't score [in the second half]. It happens."
Considering his teams' first quarter, Lowellville coach Mike Mangine surely understands. He called it the Rockets' "worst breakdown" of the season.
"We just weren't ready to play," Mangine said. "I don't believe it's anything McDonald did, but it's what we didn't do. We weren't physically or mentally ready and our heads weren't in the game. I could have blew all five timeouts."
Rasile said the first-quarter push — which was practically a layup line for the Blue Devils (21-3) — happened because of his team's energy and intensity.
"We just ran hard and rebounded," he said. "Yeah, they missed some shots they would normally make, but that's what happens when you're causing a lot of panic and working hard."
Kenny Greaver led the Blue Devils with a triple-double of 24 points, 14 rebounds and 11 blocks. Pugh finished with 15 points. But it was Seitz — who scored 12 of his 21 points in the first quarter — who sparked McDonald.
"We were just in a great routine," Seitz said. "But they're such a good team and we knew they would make a run. [Nick] Ballone got hot and it kind of went downhill from there."
In a valiant effort leading the comeback attempt, Ballone finished with 32 points, including six 3-pointers in seven attempts. Paolo DePasquale added 17 points.
The Rockets (18-5) outscored McDonald 20-8 in the third quarter and cut the deficit to single digits early in the fourth.
"I had a feeling that we'd come back sooner or later," Mangine said. "But the hole was so darn deep, there just wasn't enough time."
Rasile felt McDonald — which shot 43 percent (28 of 64) — failed to land its knockout blow in the second quarter when Lowellville scored 22 points.
"We had them on the ropes — we could have been 35 or 40 points up at halftime," he said. "Ballone did what he had to do to get his team back in the game, but we made a lot of basic mistakes that we know better than to do.
"We live to play another day, though."
The Blue Devils will face St. Thomas Aquinas at 7 p.m. on Friday for the district title.
"It should be the same kind of game as tonight," Seitz said. "We'll try to keep it close with them and hopefully it'll be a good one."