Ambassadors of Christ builds community on East Side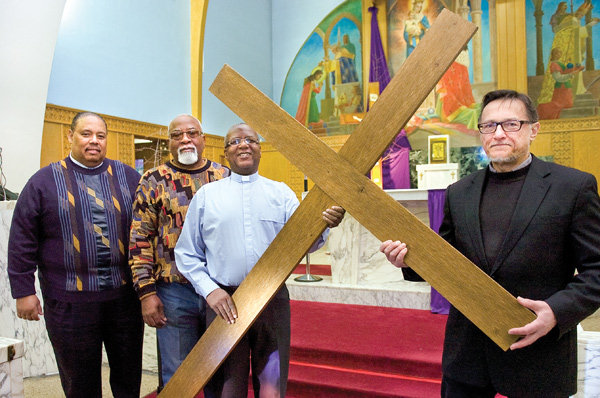 ---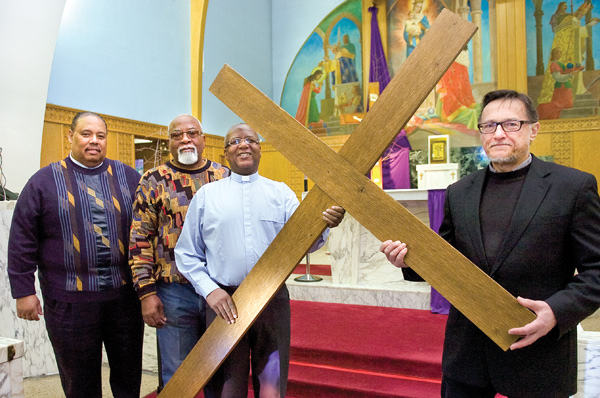 Photo
Clergy in Ambassadors for Christ hold a wooden cross that is used in its signature event, a cross walk on Good Friday. From left are the Rev. Jack Pettis, Pastor Roney Tucker, the Rev. George Wilkins and the Rev. Joseph Rudjak.
By LINDA M. LINONIS
YOUNGSTOWN
Ambassadors for Christ brings together people of different religions and races who share a unifying bond of Christianity.
Pastors involved describe the group as a "blessing" to the East Side congregations and community.
Ambassadors for Christ, organized in 2000, selected Lenten programs as a main event at member churches because they highlight the shared belief in Christ's ministry. Its signature event is a cross walk on Good Friday. For Ash Wednesday today, Ambassadors will begin its Lenten series of services and fellowship. It will be from 7 to 9 tonight at St. Stephen of Hungary, 854 Wilson Ave. Attendance ranges between 75 to 100 people.
The group also sponsors a summer picnic, winter concert and Thanksgiving food distribution.
Member clergy and churches are Pastor Roney Tucker of We Walk by Faith Church, 1636 Himrod Ave.; the Rev. Joseph Rudjak of Holy Apostle Parish with sites at St. Stephen of Hungary Catholic Church, 854 Wilson Ave., and Sts. Peter and Paul Catholic Church, 421 Covington St.; the Rev. Jack Pettis, pastor of Mount Zion Baptist Church, 827 Wilson Ave.; the Rev. George Wilkins of Mount Sinai Missionary Baptist Church, 328 S. Forest Ave; and the Rev. George Moore of St. James Church of God in Christ, 75 S. Prospect Ave. All, except the Rev. Mr. Moore, who was unable to attend, recently gathered at St. Stephen to reflect on the Ambassadors' mission.
The seeds of the organization were planted over cups of tea.
The Rev. Mr. Pettis, current president, recalled an invitation in 2000 from Sister Annette Amendolia, then pastoral associate at St. Stephen, to stop for a cup of tea. "Her idea was to start a fellowship group of churches in the neighborhood," Mr. Pettis recalled. "I remember her saying that we were neighbors and didn't know each other but we should."
Mr. Pettis credited the sister in the Notre Dame order for "starting it all." She now lives in Parma.
"Sister Ann brought God's idea. ... He worked through her," Pastor Tucker said. "If we, as churches, can't come together, how can we expect the community?" he asked. "We have to pull together as a community of churches and come together as the body of Christ because we are His body."
Original churches — St. Stephen, Mount Sinai, St. James and Mount Zion — are the core members. Other churches have belonged and left and some clergy have changed and died.
Father Rudjak said he believes the services have a therapeutic effect, a big part of which is the music. "When people get together and pray, music is part of the healing," he said.
The pastors agreed it was interesting and educational to hear music and choirs of the different denominations and ethnic heritage. "We don't get into dogma. We enjoy what each church does," Mr. Pettis said.
He added he believes the services and fellowship gatherings created a "spiritual relationship." From that, members of the different churches "feel at home with one another."
Father Rudjak added the organization has built "friendships and fellowship."
Pastor Tucker said churches and members must "work as one body and put aside differences." He admitted that years ago, Ambassadors never would have formed. "This is a God thing and God's work."
"One of the blessings of coming together is seeing our differences but appreciating different approaches," the Rev. Mr. Wilkins said.
Father Rudjak added, "There's a unique way of singing and worship at each church."
He continued that Ambassadors is a vehicle "to build up the neighborhood."
Mr. Wilkins said his church would not have the resources to sponsor a Thanksgiving food distribution, but together the member churches offer assistance to community residents.
He also noted churches worked together to beautify the East Side neighborhood.
Mr. Pettis encourages church members to sit with people they don't know. "That's an opportunity to share," Father Rudjak said.