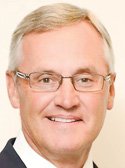 ---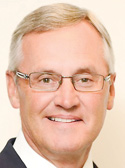 Photo
By Denise Dick
YOUNGSTOWN
Members of the Youngs-town State University Foundation trustees have joined the chorus backing Jim Tressel as YSU's next president.
"There are many characteristics desired in a university president — a proven track record of leadership is at the top of the list," said the foundation trustees' letter, dated Feb. 27 and addressed to Dr. Sudershan Garg, university trustees chairman, and copied to other board members. The university foundation is an organization that funds scholarships to YSU students.
"While other universities have courted Jim to be their president, most notably his undergraduate alma mater, he would make the most impact at Youngstown State University," the letter said.
Tressel, executive vice president of student success at the University of Akron, has been touted as a possible candidate for that university's president as well.
Supporters began floating Tressel's name as a possible YSU presidential contender the day after Randy J. Dunn, YSU president since July, announced last month that he would leave the post Aug. 16 for the presidency of Southern Illinois University.
Tressel has not said publicly whether he's interested in the job.
YSU trustees are to meet Wednesday to discuss the possibility of an earlier depar- ture for Dunn. Garg has said Dunn's exit could happen by the end of the month and the provost/vice president for academic affairs would be appointed interim president.
"Life teaches us that within obstacles lies opportunity," the letter said. "The sudden departure of Dr. Randy Dunn presents the opportunity to propel our university into a new dynamic and inspiring chapter. Jim would have the shortest learning curve of any individual appointed to the presidential post and would make an immediate positive impact on YSU's reputation and stature. We believe the appointment of Jim Tressel would create a direct correlation to increased enrollment and philanthropy."
The letter is signed by Tom Fleming, chairman of the YSU Foundation board, and Gary Mrozek, board vice chairman. It says that several other Mahoning Valley business leaders and foundation trustees endorse the letter, including A. Gary Bitonte, retired federal Judge Nathaniel Jones, Anthony Payiavlas, James Sisek and Carl Nunziato.