Cruze records best-ever February sales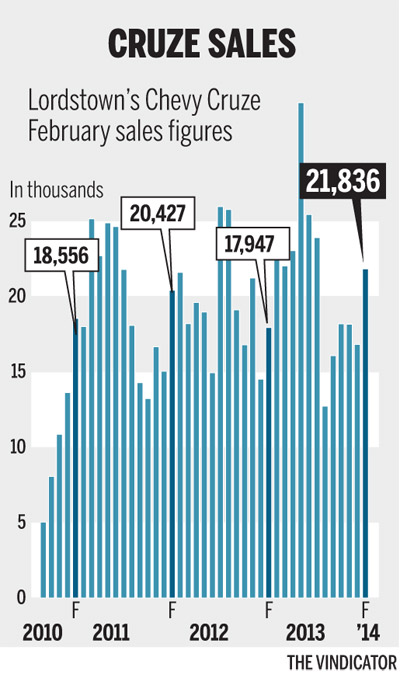 ---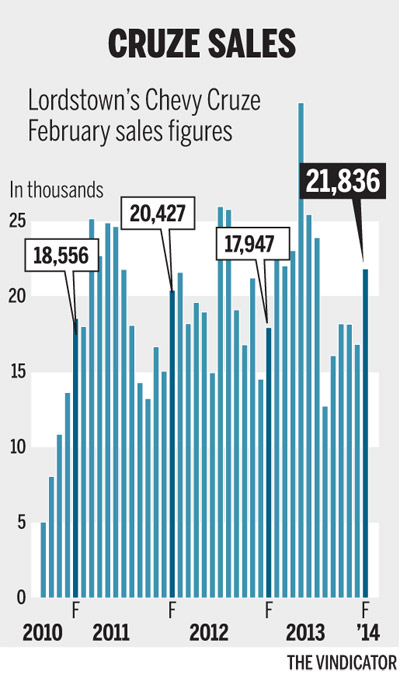 Photo
YOUNGSTOWN
The Chevrolet Cruze drove to its best February yet, with sales of the Lordstown-built compact spiking nearly 22 percent, even as U.S. sales across General Motors' brands slid during another month of harsh winter weather.
GM delivered 21,836 units of the Cruze in February, compared with 17,947 during the same month in 2013. Sales for the first two months of the year were up 19 percent, with 38,664 units sold, the company reported Monday.
The Cruze maintained its status as GM's second-best-selling model, trailing only the Chevrolet Silverado pickup, which sold 36,584 units last month.
Tom Mock, communications manager at GM's Lordstown plant, said the Cruze has proved to be a "good buy," and it has made inroads with the important 18-to-34-year-old demographic.
"We're getting customers in the younger age group that are embracing the vehicle," he said. "It's great to see that our vehicle continues to do well in the marketplace."
The Cruze's success has surprised some industry analysts because it is one of the oldest models in GM's line.
The Cruze hasn't had a revamp since its launch in 2010, but Eric Lyman, vice president of editorial and partner development at ALG, said brand recognition and incentives have helped keep the Cruze competitive in a tough compact segment.
Lyman said he expects to see a remodel in the near future.
GM officials have remained tight-lipped about when production could begin on the next-generation Cruze.
Robert Morales, president of United Auto Workers Local 1714, said production dates have bounced around several times, but he indicated that production could begin late next year. He said contractors have been at the plant readying the lines for a remodel.
As sales of the Cruze have showed steady improvement in recent months, GM has gotten off to a slow start in 2014. Deliveries were down 6.1 percent for the first two months of the year, and retail and fleet sales in February both dropped by 1 percent in year-over-year comparisons.
Automakers have blamed harsh winter conditions for tepid sales results over the past few months as consumers have stayed away from showrooms and frigid dealer lots.
"It certainly seems to be gaining traction as a legitimate reason for the slowdown," Lyman said.
According to an Associated Press report, Ford, Toyota and Volkswagen recorded declining U.S. sales last month, while Chrysler and Nissan used discounts to secure double-digit gains.
The pent-up demand is leaving dealers a glut of vehicles heading into the spring sales months. Lyman said consumers could expect more incentives and lower transaction prices in the coming months as dealers try to sell off their stock through May.
He added that the large inventories — reaching levels unseen since 2009 — could prompt some automakers to cut back on production to protect the value of their products.
But Mock said production at Lordstown is steady for now.
"At this current time, there's no impact on our production," he said.
Morales said there are three Saturdays of production tentatively scheduled for all three shifts in March.
"We're doing our part and General Motors is doing their part," he said. "I believe we're listening to our customers, and we're winning them back."