Police: Charges not expected in toddler's death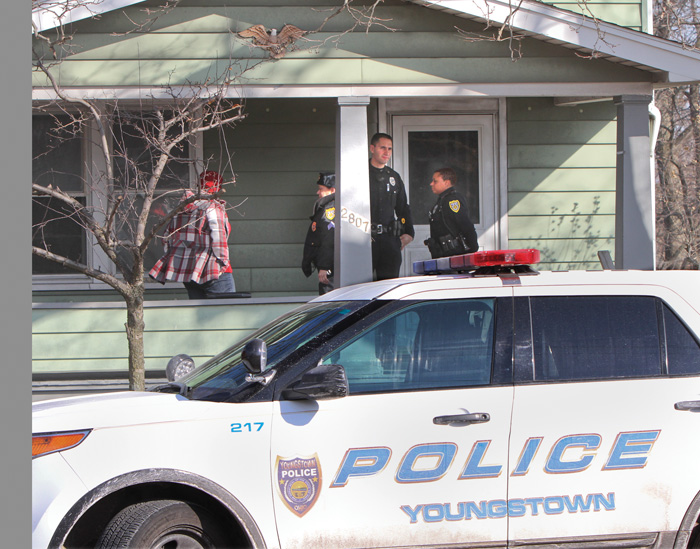 ---
By Joe Gorman
YOUNGSTOWN
Police said Monday they do not expect to file charges in the case of a 3-year-old Quinton Alli, found dead Saturday at a South Side home in an unheated back porch.
Dr. Joseph Ohr, Mahoning County deputy coroner and forensic pathologist, told The Vindicator's broadcast partner, 21 WFMJ-TV, that his diagnosis is leaning toward a natural death and suggested a heart issue could have been the cause. He also said the boy may have collapsed, and there is no evidence of foul play.
Dr. Ohr will know whether the issue was genetic, infectious or an anatomical problem after he examines the tissues and the toxicology report is complete. The boy's heart was shaped like a ball and soft instead of conical in shape and firm, he said.
Lt. Douglas Bobovnyik of the detective bureau and Detective Sgt. Ron Rodway, lead investigator, said it appears the death of Quinton was an accident.
"It appears to be nothing more than a tragedy," Bobovnyik said.
The child was found about 9 a.m. Saturday by relatives. He was wearing nothing but his underwear in the back porch area of the house, which is enclosed. Temperatures early Saturday reached a low of 14 degrees at 1 a.m. Police believe the child wandered off in the middle of the night and ended up on the enclosed porch and possibly went to sleep.
Bobovnyik said they still are waiting to determine what time the child died.
There were 11 people in the house at the time. Bobovnyik said the homeowner, Stacy Gilmore, 41, has four children of her own in the home, and the Mahoning County Children Services Board placed five additional children with her who are her cousin's children, although Bobovnyik said at least one of Gilmore's children is age 18.
Quinton was one of the five children placed there by CSB, Bobovnyik said.
Bobovnyik said he did not know how long ago the children were placed there, but he said it was not long ago. He said Gilmore was working on getting temporary custody of the children.
He said he did not know why Quinton and his siblings were not living with their mother.
Randy Muth, director of the CSB, said he could not comment on the case or whether an investigation is underway. Police have said that CSB was notified of the situation.
When asked why five children would be placed with a parent who already has four, Muth said that every case is different and that decisions to place children are based on the best interest of the child. Muth said he could not comment specifically on Quinton's case as to why he and his siblings were placed with Gilmore. He did say that not all of her children are under 18, which is the age that CSB considers a person to no longer be a child. He said it was his understanding that two of her children are adults.
Rodway said all 11 people in the home were sleeping downstairs in either the living room or dining room. He said the house was very warm and not only was the furnace running, but there also were space heaters because they did not like the home to be cold.
"The house was horribly hot," Rodway said.
The people they interviewed told investigators it was not uncommon for Quinton to go into the unheated back porch from time to time to cool off because of the heat inside the house, Rodway said.
"He [Quinton] would maybe sometime open the door to cool off," Rodway said.
Rodway said the door to the enclosed porch did not lock and was easy to open from the front and the back.
"He [Quinton] could've easily pushed it open," Rodway said.
Reports said Gilmore told officers she often propped large jars in front of the door to keep it from opening, and when officers arrived they found a jar in front of it to keep it closed, reports said.
The child also was known to wander around in the middle of the night, Bobovnyik said.
Bobovnyk said the family is extremely distraught over Quinton's death.
"They were very close as brothers and sisters," Rodway said.