Relentless winter delays Ohio maple-syrup season
---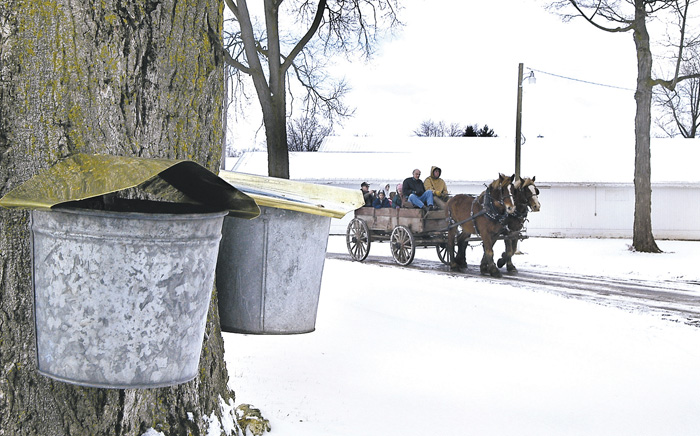 Photo
A team of Belgian horses passes a tree tapped for maple syrup near Montpelier, Ohio. Syrup season in Ohio typically begins by mid-February, but many producers still haven't tapped their trees because of the cold weather.
Associated Press
CLEVELAND
The unrelenting winter is turning out to be particularly bitter for Ohio's maple syrup producers.
Syrup season in the state typically begins by mid-February, but many producers still haven't tapped their trees.
The Plain Dealer reports that's because of the unusually frigid February.
Ideal syrup conditions are warm days followed by below-freezing nights.
Of the 12 states in the country that produce syrup, Ohio typically ranks fourth or fifth.
The state produced 155,000 gallons of the sweet stuff in 2013, beaten only by Vermont, New York, Maine and Wisconsin, according to the U.S. Department of Agriculture.
Bill Belew, whose Auburn Township farm in Northeast Ohio typically produces 350 to 400 gallons of maple syrup a year, said this season is the latest he's had to wait to tap his trees.
"Mother Nature dictates this whole thing," he said. "Nobody knows how this year is going to turn out yet."
Last year was a record year for many producers, with an early warm-up allowing the sap to start flowing as early as late January and lasting into April. Two years ago, however, the winter was too mild for a good season, with maple trees budding in mid-March, making sap turn sour early.
Despite this year's uncertainty, the Ohio Maple Producers Association still plans on hosting its 14th annual Maple Madness Tour, a drive-it-yourself circuit showcasing the state's sweetest agricultural product next weekend.
There are 50 stops along the tour, mostly in Northeast Ohio. Some include horse-drawn wagon rides to maple trees, while others offer historic demonstrations or additional farm activities.
One of the stops is Sugar Valley Maple, where three generations of Amish farmers have been making syrup on 65 acres in Middlefield Township.
Sugar Valley Maple farmer James Miller said he was able to tap his 2,400 sugar maples during a brief weather warm-up last week and made 131 gallons of syrup, but that the trees have since shut down production.
"I'm a little bit worried," he said. "With this cold weather, it could be a short season."