Earlier exit for Dunn mulled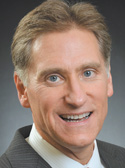 Photo
By Denise Dick
YOUNGSTOWN
Youngstown State University trustees will meet this week to discuss an earlier departure for outgoing President Randy J. Dunn.
"I think it may be by the end of March," said Dr. Sudershan Garg, chairman of YSU trustees.
The meeting is set for Wednesday, and Garg expects it initially will involve board members, who likely then will ask Dunn to join them.
An agreement would have to be worked out between Dunn and the university to allow the earlier exit.
Dunn, president since July, announced Feb. 17 that he would leave YSU for the presidency of Southern Illinois University. Aug. 16 is the effective date of his resignation, the required six months' notice under his contract.
But Dunn said he would leave earlier if YSU trustees named a replacement and wanted him to go sooner. Attempts to reach Dunn were unsuccessful Sunday night.
If an agreement is reached, trustees likely would appoint Ikram Khawaja, provost and vice president for academic affairs, as interim president.
Khawaja is overseas and not expected to return until March 15, so trustees haven't yet spoken to him about the possibility of the interim appointment.
Khawaja served as interim president last year between the retirement of Cynthia E. Anderson, former president, and Dunn's arrival.
Under the university's bylaws, the provost serves as interim president in the absence of a president.
If Khawaja is appointed to that seat again, he would serve until June 30 when he is retiring.
YSU has hired AGB Search of Washington, D.C., the same search firm that netted Dunn, to conduct the search for a new president.
Because Dunn resigned within a year of taking the job, the search firm is waiving its fee for the second search. YSU still will be responsible for expenses including travel and lodging for candidates who visit campus.
After a new president is selected, who will be the ninth person to occupy the post, a new provost is to be named, allowing the new president input on that decision.