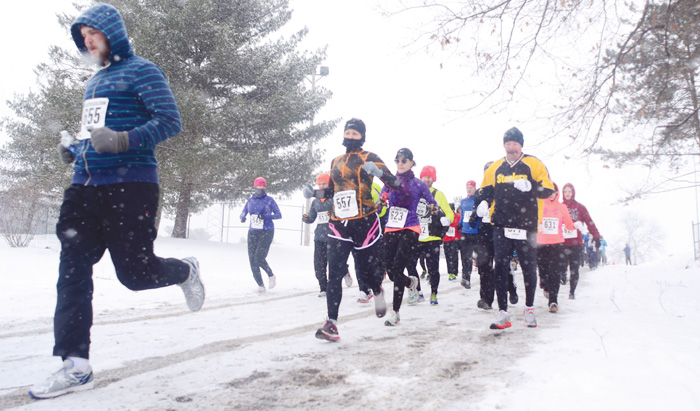 ---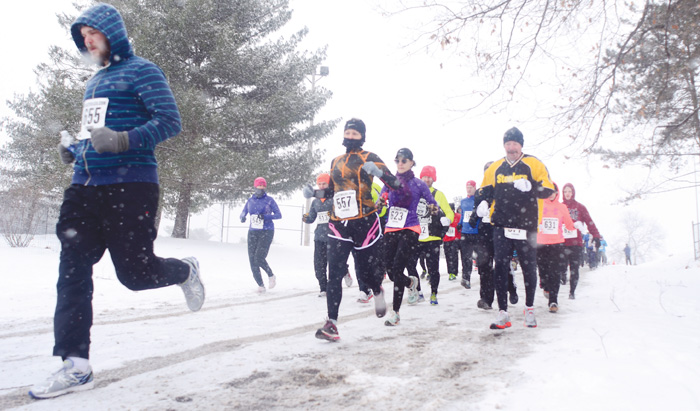 Photo
Runners watch out for ice and snow during Sunday's Youngstown Road Runners Club's Mill Creek Distance 5K at the Wick Recreation Area in the park.
By Greg Gulas
YOUNGSTOWN
With icicles on men's beards and women's faces red as apples when they crossed the finish line, 514 runners braved the elements Sunday to take part in the Youngstown Roadrunners Club's 25th Mill Creek Park Distance Classic.
Former Youngstown State University running standouts Matt Folk and Kayla Aluise captured the half-marathon event, while Boardman's Chaz Regano and Lisbon's Caitlin Glenn were tops in the 5K.
For Folk, who finished in 1:19:02.39, it was his third-consecutive victory and the eighth time overall that he has won this event. Aluise, who is in training for her first marathon in late April, crossed the finish line in 1:35:40.48 for her first victory.
Both were coached collegiately by Brian Gorby, the 17-time conference "Coach of the Year" who is the architect of 18 combined conference men's and women's track and field and cross country titles.
"I currently live in Toledo and came down with five other friends today in order to take part," Folk said. "We're all training for the Boston Marathon, which is just seven weeks away, so this was a big training run for all of us.
"I wanted to see where my fitness level is at, but the times aren't exactly true because of the weather," Folk said. "It was tough, the course challenging, but I wanted that.
"It's always great to come back home and especially run in Mill Creek Park, no matter what the weather conditions."
Running runs in Aluise's family as her father, Mark Witmer, begins his day with an outdoor 10-20 mile run.
"For me, it's a family thing as my father never misses a day," Aluise said. "I train with a bunch of women and we run every morning as well.
"I am training for my first marathon, the Pro Football Hall of Fame Marathon in Canton which will be held on April 27," she said. "I wanted to finish today because of the weather, but to win is simply exciting.
"The footing was rough, especially at the end because you were sliding all over the place," Aluise said. "The hills were another story but I am glad that I participated because I cannot get enough of Mill Creek Park."
Regano, a 2011 Canfield High School graduate who is a YSU student, finished the 5K course in 21:50.71; 18 seconds better than runner-up Mark Rogenski of Youngstown and 81 seconds in front of Steve Lengel of Hermitage, who finished third.
"I finished second two years ago so to win it all is a great feeling," Regano said. "You had to be extra careful today because of ice and other slippery spots on the course. Hills and snow presented quite a challenge."
Glenn, the top female, won her first 5K by finishing in 23:40.71, which was more than three minutes faster than runner-up Danielle Buzzacco (26:50.97) of Canfield.
She finished second in her age group in the half marathon last year.
"I do long-course triathlons and love running in Mill Creek Park, but today the course was a real challenge," Glenn said. "The first mile was slippery and the last mile a real killer."
Lengel, 56, is a resident of Hermitage, Pa., who participated with his significant other, Marion Minich.
Running in shorts and a long-sleeve t-shirt, Lengel felt comfortable despite not so formidable weather conditions.
"If I wear too many clothes I get hot," Lengel said. "If it's 50 degrees or better, then I run without a t-shirt. I take part in 25-30 5Ks a year and this remains my favorite course."
Minich, who placed first in her age group (60+), has only been running for two years.
"Like Steve, I try to run between 25-30 races a year but my goal is to run a half marathon this fall," Minich said. "Where I finish doesn't matter, it's just something that I want to cross off my bucket list of things to do."
Sean Hulbert, a Leetonia native, is a geophysicist with AMEC Environment and Infrastructure and has been working in Arizona the past four months. He finished runner-up in the half marathon.
"The weather upon returning has been like culture shock," Hulbert said. "Matt poured it on at the 10-mile mark and I just couldn't catch him. The slushy course was a challenge as well."
Boone Weatherly, 59, is an Aliquippa, Pa., resident who placed third in his age group in 5K.
"I did 24 races last year and always placed in my group," Weatherly said. "I'm still looking for my first overall win and next year when I turn 60, I'll be the youngest in that grouping.
"It's my first race of the year so while the weather was as much a challenge as the course, it was good to finally kick-off my running season.
At 76, Southington's John Betersao has taken part in nearly 250 5K runs, as well as 12 half marathons. He finished 88th overall in the 5K by running 39:27.99.
"The weather hasn't let me get my miles in just yet, so I haven't been able to train like I had hoped prior to today's event," Betersao said.
In his sixth season as race director, Rick Hart said the event is used to raise dollars for YSU cross country scholarships.
"We try to give out one or two scholarships each year," Hart said. "With over 500 runners taking part today, our running season is definitely off to a good start."