Garden Forum will offer spring fling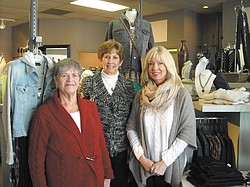 Photo
SPECIAL TO THE VINDICATOR The Garden Forum of Youngstown is preparing for its annual spring meeting April 5 at the Davis Center. From left are Mary Schall, president of Garden Forum; JoAnn Vlacancich, third vice president and member of Garden Gate Garden Club of Poland, the hostess club; and Suzanne Kessler, owner of Suzanne's.
Staff report
YOUNGSTOWN
The annual spring meeting, luncheon and fashion show of Garden Forum of Greater Youngstown will take place April 5 at the Davis Center, Fellows Riverside Gardens.
Registration begins at 10:30 a.m., and the program will begin at 11. Phil Steiner will present "Spring Gardening Do's and Don'ts."
A sit-down lunch by Cater 2 U is scheduled for noon, and the fashion show will be presented by Suzanne's at 12:45 p.m.
At 1:30 Lutz Greenhouse will present Container Gardening.
There also will be a basket auction.
The cost for Garden Forum members will be $20, and others may attend for $25. The reservation deadline is March 24.
Make checks payable to and mail to Garden Forum, 123 McKinley Ave., Youngstown, OH 44509.