3-year-old found dead in unheated porch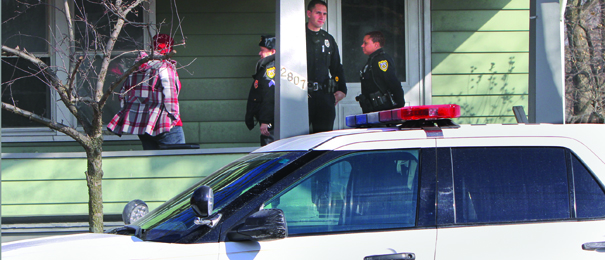 ---
By JOE GORMAN
jgorman@vindy.com
YOUNGSTOWN
A 3-year-old boy apparently froze to death in an unheated, enclosed back porch in a home in the 2800 block of South Avenue overnight Friday.
The boy was found Saturday morning after his relatives woke up and could not find him. Someone discovered him at about 9 a.m. in the enclosed porch and called 911, the boy's great aunt, Cheryl Boudrey, said on the front porch of the home Saturday afternoon.
Police were called and detectives are investigating.
Lt. Douglas Bobovnyik of the Detective Bureau identified the boy as Quinton Alli.
Eleven people were inside the home, nine of them children, Bobovnyik said. He noted that several of those children had been placed there by Mahoning County Children Services.
Bobovnyik said the last time anyone saw the 3-year-old was 11 p.m. Friday, when he was in a downstairs bedroom with one of the adults and the adult went to bed and left the child there.
Somehow, the boy got into the enclosed porch area and could not get out.
"It appears the door shut behind him somehow," Bobovnyik said.
Bobovnyik said the boy was wearing nothing but a pair of underwear. According to AccuWeather, the low temperature overnight was 14 degrees at 1 a.m.
Boudrey said she thinks her great-nephew fell asleep, got up in the middle of the night, left where he was sleeping, got into the enclosed porch and then fell asleep again.
Bobovnyik said it appears the boy died of exposure, but an autopsy has not been done yet.
Boudrey said her niece was the boy's caregiver. Her niece was awarded custody of the boy and his siblings from Children Services, Boudrey said.
"What happened today was an accident," Boudrey said, adding her niece is a good mother to the children.
"She wouldn't of hurt these babies," Boudrey said.
Bobovnyik said no one is in custody presently and detectives will be back to continue their investigation because it was hard to interview family members because they were so upset.
He said it is too soon to tell if charges will be filed.
"It's early in the investigation," Bobovnyik said.
Children Services is aware of the situation, Bobovnyik said.