Feds approve more fracking off California Coast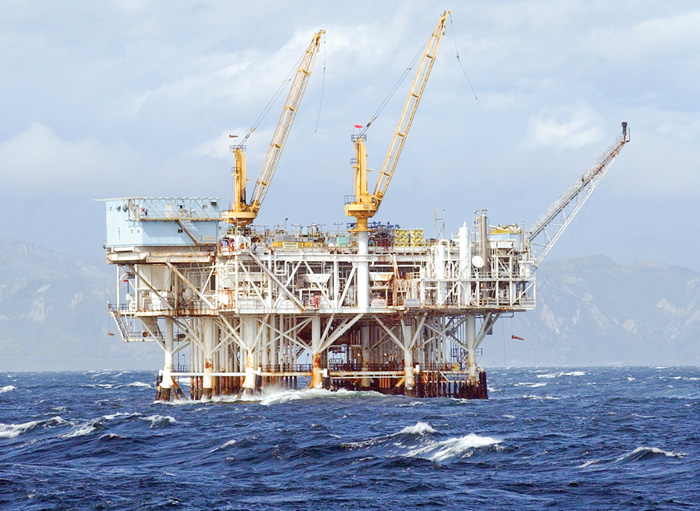 ---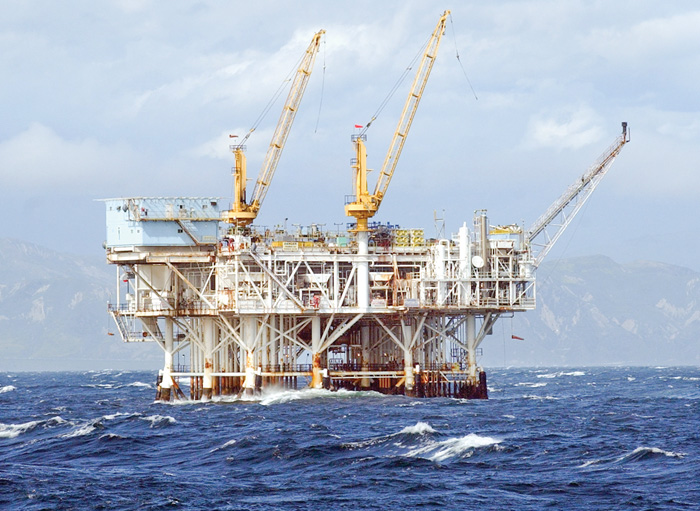 Photo
The oil platform Gilda is seen in federal waters in the Santa Barbara Channel off Ventura, Calif. The California Coastal Commission met recently to get an update on offshore hydraulic fracturing, which has occurred at least a dozen times in federal waters since the 1990s.
By Alicia Chang
Associated Press
LOS ANGELES
The federal government has approved three new fracking jobs off the shores of California as state coastal regulators voiced concerns about potential environmental impacts.
The work in the Santa Barbara Channel, site of a 1969 oil platform blowout, has not yet begun, and it was not immediately clear when it would.
The disclosure last month came as the California Coastal Commission attempts to exercise greater oversight of the contested practice known as hydraulic fracturing, which involves pumping huge amounts of water, sand and chemicals deep into rock formations to free oil.
The environmental impacts of fracking and other well stimulation techniques "are not well understood. To date, little data has been collected," said Alison Dettmer, a commission deputy director.
The agency launched an investigation into the extent of offshore fracking after The Associated Press last year documented at least a dozen instances of companies using the technique since the 1990s in federal waters.
Dettmer provided an update to commissioners at a hearing in Pismo Beach, a beach city 175 miles northwest of Los Angeles. Opponents held signs with a red "X'' over the word "Fracking."
The government oversees fracking that occurs more than 3 miles off the coast, but it has not distinguished the practice from regular drilling in the permit process. The state coastal commission can have a say regarding fracking jobs in federal waters if it determines the work presents a threat to water quality closer to shore.
Through the Freedom of Information Act, the AP found the Bureau of Safety and Environmental Enforcement, or BSEE, the federal agency in charge of offshore drilling, approved a new project in March 2013.
The bureau recently confirmed that it green-lighted three other fracking plans by the company DCOR LLC last year on an oil platform about 9 miles offshore. Though new oil leases have been prohibited since the 1980s, companies can still drill from about two dozen grand- fathered-in platforms.
DCOR did not respond to a message seeking comment.
Citing concerns about ocean discharges, Dettmer urged the state coastal panel to take a closer look at applications that propose fracking.
Technological advances "may lead to pressure to open up new areas to leasing for oil and gas in state and federal waters," said Dettmer, adding that the complex geology has so far discouraged extensive development.
After pressure from state lawmakers and residents, the Environmental Protection Agency recently required oil companies planning offshore fracks to report chemicals released into the sea. Though commission staffers think it's a promising first step, they want their own review.
The oil industry has insisted the practice is safe. In a letter submitted to the commission before the hearing, the California Independent Petroleum Association said offshore fracking and other well-stimulation techniques have occurred for decades without environmental harm.
Similarly, BSEE reviews every application for safety and ensures that measures are in place to protect workers and the environment, agency spokeswoman Julia Hagan said in an email.
Fracking also has occurred closer to shore, mostly in the Southern California port city of Long Beach. Unlike fracking in federal waters — where some of the wastewater can be legally dumped overboard — state law bars overboard discharge, and most waste fluids are reinjected underground.
Despite calls by environmentalists to ban fracking, the coastal commission said it lacks the power to do so.
Brian Segee, a staff attorney at the Environmental Defense Center, questioned why the commission was playing catch-up.
"For the industry to come up here and say this has been happening for decades, or 'we've known all along' ... why did the commission not know?" he said.