Visiting probate judge exemplifies hard work and humility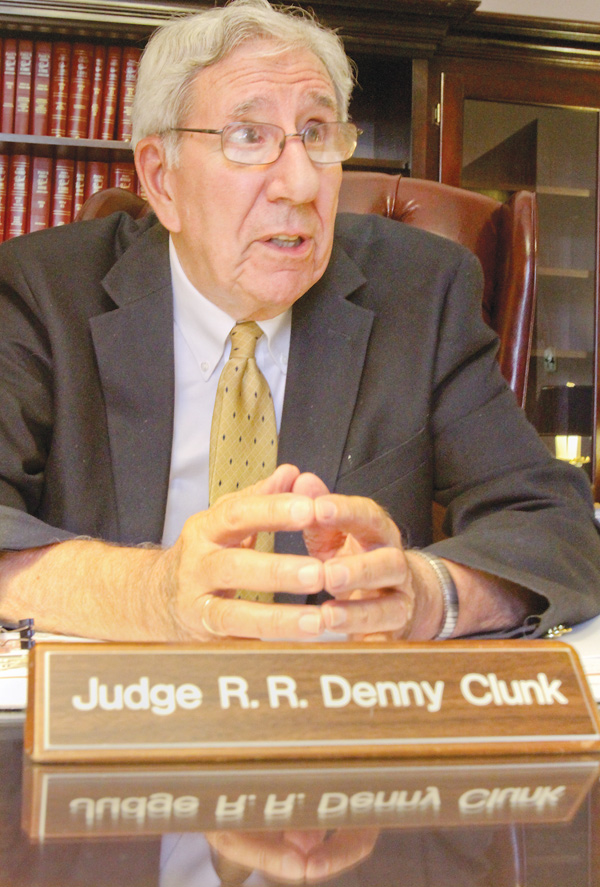 ---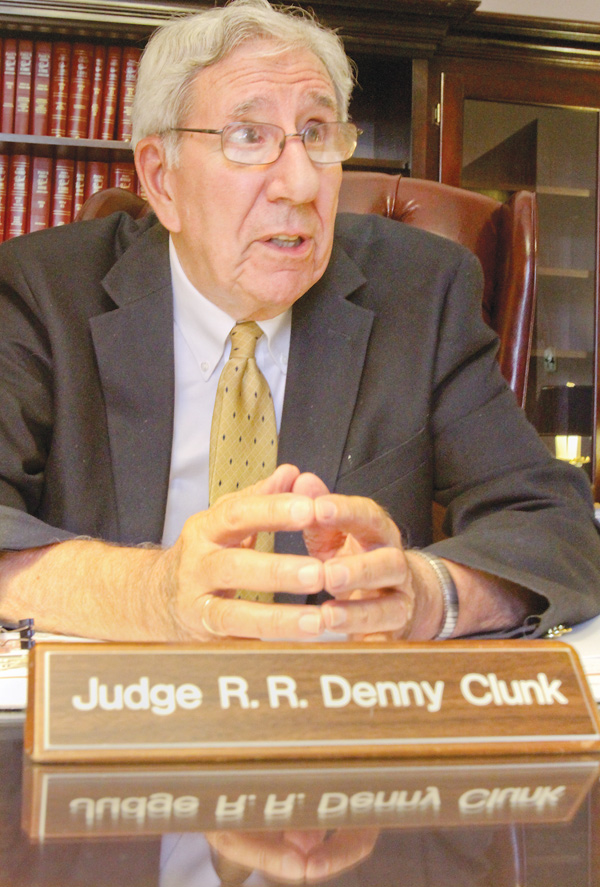 Photo
Judge R.R. Denny Clunk was appointed interim judge of Mahoning County Probate Court on March 14.
YOUNGSTOWN
Hard work and humility are the hallmarks of Judge R.R. Denny Clunk, interim judge of Mahoning County Probate Court.
The visiting judge wasted no time in arriving here after his appointment by Chief Justice Maureen O'Connor of the Ohio Supreme Court.
The retired judge of Stark County Probate Court was appointed on a Friday evening, March 14, immediately after the resignation of Judge Mark Belinky.
In its notice that the chief justice had appointed Judge Clunk, the top court informed LuAnn James, executive assistant in Mahoning County Probate Court, that Judge Clunk planned to call James the following Monday.
As promised, Judge Clunk called James on Monday morning while he already was en route from his Alliance residence to begin his duties here.
Judge Clunk, 84, said he believed it was important for him to begin work here immediately to ensure continuity in the court's functions, including the issuance of marriage licenses.
"I wanted to be here to help the staff in the transition," he said.
Since his resignation, Belinky has pleaded guilty to tampering with records and will be sentenced July 9.
Gov. John Kasich has appointed Atty. Robert Rusu, who will take office July 8 and complete Belinky's term, which expires in February 2015.
Judge Clunk — a graduate of Mount Union College and Case Western Reserve University School of Law, who was admitted to the bar in 1955 — is past president of the Stark County Bar Association, the Ohio Association of Probate Judges and the National College of Probate Judges.
Having been Stark County Probate judge from 1985 to 2003, he received the NCPJ's Treet Award as the outstanding probate judge in the nation in 2003.
Three years ago, he received the Lifetime Achievement Award from the Ohio Association of Probate Judges.
Despite his accomplishments, Judge Clunk espouses humility.
"I have seen judges who have the black-robe plague. When they get the robe, they decide that they're God almighty, and I've tried to remain humble," Judge Clunk said. "When you believe that you're better than the job, then you're in trouble."
The probate court is "the cornerstone of the judiciary," the visiting judge said.
"We're here to help people from cradle to grave," Judge Clunk said. "We're getting people married. We're helping people get adopted. We're helping older people who are in distress to have a guardian appointed."
Judge Clunk has served as a visiting judge in 22 probate courts and five times as an interim judge.
Judge Clunk and his wife, Jo, have been married 64 years, and they have five children, 17 grandchildren and 12 great-grandchildren.
In his assignment here, Judge Clunk said he has committed to putting in a full day's work every day he's here and to personally presiding over all contested matters.
Judge Clunk, who praised the 14-member probate court staff here, said he now rates the court's operation 9.9 on a scale of 1 to 10, with 10 being the highest.
"I've been very impressed with the staff. ... This has been one of the most gratifying assignments I've had in 30 years because of the staff," Judge Clunk said.
In deciding how they will vote Nov. 4 for probate judge, voters here should evaluate the amount of experience the candidates have had as lawyers in probate court, Judge Clunk said.
In that election, Rusu, an independent candidate, will face Susan Maruca, the Democratic candidate.
"First and foremost is experience, and experience is only gained by practicing your trade in this court," Judge Clunk observed.
"Their deportment and their demeanor is also important," he said, adding that compassion is also an important judicial quality.
"Judge Clunk brought in his wealth of knowledge, not only on the judicial side, but the administrative side as well," said Lucia Lovell, Mahoning County Probate Court administrator since 2003.
Judge Clunk exudes "judicial temperament, wisdom and dedication," Lovell added.
"Talking to him, you never felt intimidated. ... He was very approachable. He had an open-door policy," she said.
"Judge Clunk came in here with an energy that was very well-taken. ... He got along well with everybody and put everyone at ease and just did a terrific job," said Vincent Wloch, a probate court magistrate here for 151/2 years.
"He knew exactly what he was doing. He has a wealth of experience in all of the areas of probate," Wloch said.
"He knew how to approach an issue in a very analytic, careful and direct way and made good, reasonable decisions related to the problems that he was confronted with each and every time," Wloch added.