Stadium Drive hosts pep rally for Relay for Life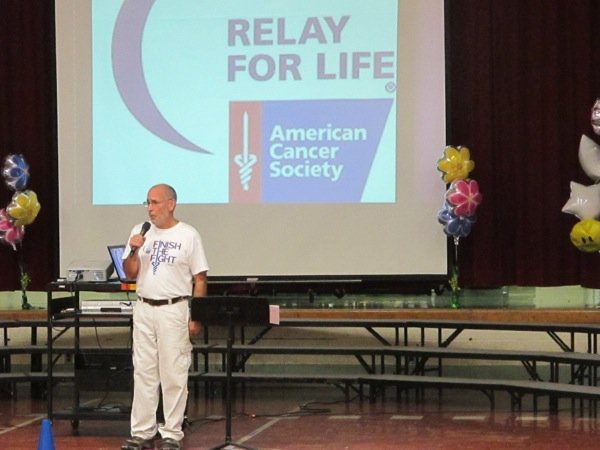 ---

Photo
Neighbors | Tim Cleveland.Students at Stadium Drive Elementary filled the school's gym for a pep rally in advance of Relay for Life.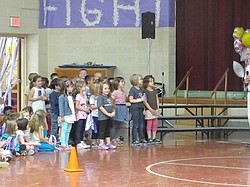 Photo
Neighbors | Tim Cleveland.The kindergarten class at Stadium Drive Elementary stood up and recited their cheer during the pep rally for Relay for Life.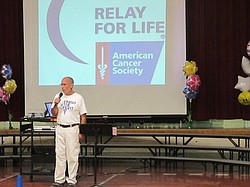 Photo
Neighbors | Tim Cleveland.Elementary music specialist for Boardman Local Schools Dean Wilson spoke to Stadium Drive Elementary students during the pep rally for Relay for Life.
By TIM CLEVELAND
With the Relay for Life activities happening the next day, Stadium Drive Elementary hosted a pep rally on May 15 to get the school's 383 students in grades kindergarten through four excited about the fight against cancer.
Second-grade teacher Jessica Meli explained how the idea for doing the pep rally originated.
"We collect $60 from the teachers each school year and we wear jeans on Friday, so we just thought the kids never knew why we wore jeans on Friday so we got them involved for that reason, and also just because a lot of them have been affected by cancer," she said. "A grandpa or grandma; we asked them and a lot of kids had stories to tell us. They knew what it was, so we just wanted to get them involved."
As part of the pep rally, each class was asked to come up with a chant or cheer. Elementary music specialist for Boardman Local Schools Dean Wilson called on them by class and they were going to say their cheer. In between each cheer, the students watched a video relating to Relay for Life or a story about a child affected by cancer.
"With our assembly, we're bringing the entire school together, grades kindergarten through four," Wilson said. "We're a team, and we're a team that wants to fight cancer. We're coming together to cheer each other on with chants and cheerleading and songs and videos that will get people pumped up about killing cancer. It's all in support of Relay for Life, which is happening this weekend. Tomorrow, the children at this school are having their own Relay for Life in the afternoon. This is something to help them understand what Relay for Life is and to get them excited about them making a difference."
Meil said the pep rally would encourage the students to participate in Stadium Drive Elementary's Relay for Life activities.
"We want to get them revved up for tomorrow for the Relay for Life that's going on at the middle school [at the high school football stadium]," she said. "We want all of the kids to dress up in purple tomorrow and bring a dollar so we hope this helps them remember that tomorrow they need to bring a dollar and that we're going to be a doing a student Relay for Life. One class will be walking outside in our parking lot for 20-minute blocks all day long."
Wilson gave a description of one of the videos that was played dueling the pep rally.
"In the videos, there's a song called 'The Climb.'" he said. "It's a Miley Cyrus song with some very moving words about getting past the struggle, about not quitting, not giving up. We're going to have the children watch that and perhaps sing along as a way of showing that we don't ever give up. If you have the disease, you'll always cling to hope. You never give up. If you're raising funds for the disease, you never give up. You continue working until we manage to beat this terrible disease called cancer."