Speakers educate Glenwood Middle School students at Career Day

Photo
Neighbors | Tim Cleveland.Advanced anesthetist at Northside Hospital Laura Stamp explained how her job works with a stethoscope during career day at Glenwood Middle School.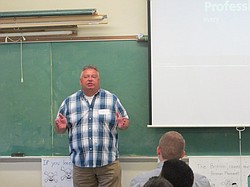 Photo
Neighbors | Tim Cleveland.Larry McDevitt, a machining instructor at Mahoning Career and Technical Center, spoke to Glenwood Middle School eighth-grade students for career day.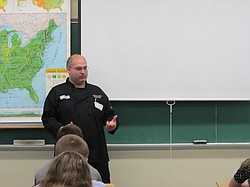 Photo
Neighbors | Tim Cleveland.Executive chef and culinary instructor Sean Kushma spoke at career day to Glenwood Middle School students.
By TIM CLEVELAND
With approximately 200 eighth-graders at Glenwood Middle School on the verge of moving on to high school, the school hosted Career Day on May 15 in the hopes of educating them on what potential careers are available for when they graduate.
"It's for all of our eighth-grade students," said PTA officer and Career Day co-chair Sue Downie. "They look forward to it every year because they get dressed up. My daughter right now is an eighth-grader and my other daughter's a junior. My older one said 'I can remember what so-and-so and so-and-so wore that day.' It's a huge deal."
Downie said she wanted to bring in a wide variety of speakers to give the students as many different career ideas as possible.
"We tried to do speakers that both have gone to college and they have different careers like welding and that kind of thing," she said. "We have them come in. We have a number of career speakers coming from the MCCTC. There's culinary, medical, welding, fire fighting, machinery. We have a real estate agent, a dentist, a radiologist coming in. It's very nice because it's members of the community that we call upon and they come in and volunteer their time. It's two 25-minute speeches that they give. They start out in one English class for 25 minutes, then they go to another English class for 25 minutes."
One of the speakers was John Harris, who has been a sports writer for the past 32 years. He began his career at the Toledo Blade and now works for the Pittsburgh Tribune-Review.
"My son goes here; he's in the seventh grade," he said. "My wife also speaks here and we just try to support the school in any way we can.
"I talked to them about what I do as a journalist and some of the things that it took for me to get where I got and how to apply those qualities not only to the work environment but to their life and what they need from a foundation standpoint."
Downie said the students listening to the presentations can gain a wide variety of benefits.
"It gives the kids some sense about what the career is," she said. "It gives them a chance to answer some questions. It kind of opens their eyes about what the opportunities are out there so they can start thinking about what they might like to pursue. Boardman High School has such a wide array of different classes. They can enter into high school thinking 'I heard that speaker over at career day. I was kind of interested in that. Maybe I want to take some computer classes or maybe I want to go down in the wood shop.' Boardman has all of that."
Downie added that the speakers enjoy speaking to the students as well.
"We have a lot of speakers that return year after year," she said. "They look forward to it or they say 'I really enjoyed that. Call me next year.' They see how well the kids participate and how eager they are to learn."