North Elementary students learn about animals with seventh-graders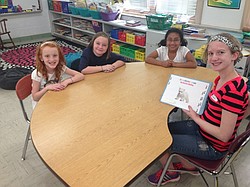 Photo
Neighbors | Submitted.Poland Middle School seventh-grade student Kallista Medley (right) read from her animal book to North Elementary second-graders (from left) Maya Scott, Natalie Patterson and Samantha LaHart.
By TIM CLEVELAND
On May 21, all kindergarten through fourth-grade students at North Elementary were visited by approximately 60 students from Poland Middle School, who read from animal diaries that they created and wrote.
All 180 PMS students participated in the animal diaries, with 50-60 of them reading their stories at North Elementary, Dobbins [on May 28] and Union [on June 2].
"My son is a second-grader at Poland Union and I read 'Diary of a Worm' by Doreen Cronin to his class and I thought it would be a great idea for a seventh-grade research project," PMS library media specialist Angela Zedaker said of the project's origins. "As part of the Common Core Standards in seventh-grade, students need to able to research information, write for a specific audience and present to a group. Since February Mrs. Moncilovich's and Mrs. Angelilli's seventh-grade students have come into the Library Media Center once a week to work on these projects."
Zedaker said while PMS students had an outline for how to do the animal diaries, they were allowed latitude to be as creative as possible.
"Students were able to choose any animal," she said. "We had students choose very traditional animals, such as a zebra or a tiger and also some very unusual ones such as a camel spider and stoat. Students researched for two weeks. Each diary entry had a specific focus, for example the first diary entry was about the animals' habitat and eating habits. There were five entries in all. Then students gathered pictures and the fun part was putting it together. We went through a lot of glue and googlie eyes. There were feathers, fur and glue all over the Library Media Center."
North Elementary third-graders Jacob Allsopp and Katie Justice both said they enjoyed the presentations.
"I really enjoyed it," Jacob said. "They had good details in the stories. The shark story was probably my favorite."
"I thought it was really cool where the animals were from," Katie added. "My favorite was the horse story."
Zedaker said she plans to continue the project in the future, adding she felt the event was a success.
"Everyone really enjoyed it," she said. "The seventh-grade students did a great job on their projects and they really enjoyed reading them to the students. This was not a project just to get a grade, it had a purpose to entertain and inform the younger students and it did just that. The K-4 students loved being read to and seeing their older brothers or sisters at their school. The elementary teachers enjoyed seeing their former students. It was a real nice activity."