Lowellville grad's talent takes flight with concert band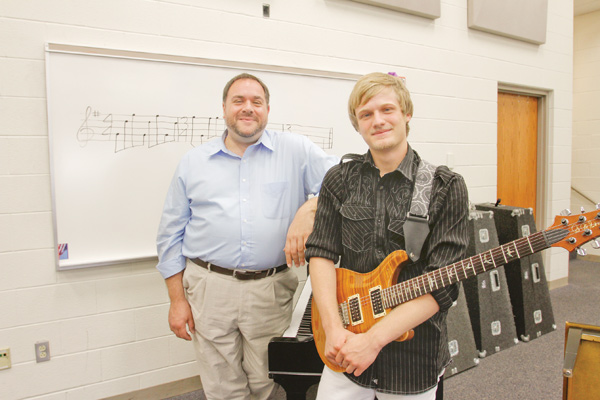 ---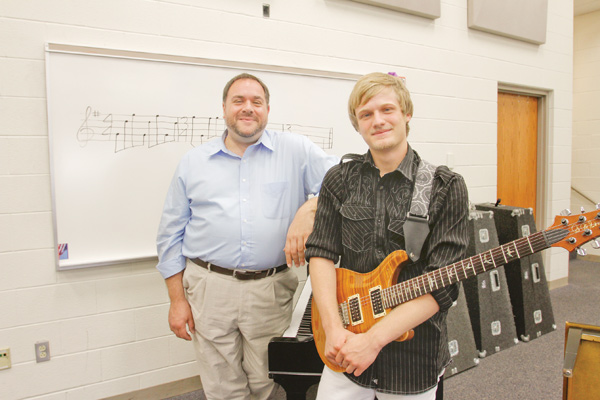 Photo
For his senior capstone project, 18-year-old Nick Frank, who graduated from Lowellville High School earlier this month, composed a piece of music that was performed by his school's concert band. With him is Bob Antonucci, Lowellville's band teacher and a mentor for Frank's project.
By EMMALEE C. TORISK
etorisk@vindy.com
LOWELLVILLE
In her many years as an English teacher at Lowellville High School, Betsy Smith has seen her share of unique senior capstone projects — each of which required the yearlong pursuit of something the student had never attempted.
She's had students try the bagpipes and baton twirling, skydiving and steer roping, to name only a few.
It's been a "hugely wide variety" of projects, she explained. Still, she'd never had a student decide to compose a full-length piece of music, then conduct as the school's 80-some-member concert band performed it, until this year.
That project was "one of the most phenomenal ... we've ever had," Smith said.
The student behind it was Nick Frank.
Music is "such a beautiful thing," said Frank, 18. "It's a great way to express yourself."
Frank premiered his 73-bar, two-minute-long piece, named "Flightline Aurora" after the aurora borealis and the aircraft that fly past it, at the band's May 20 spring concert. His work on it began much earlier, however, stretching all the way back to the start of the school year.
He admitted that though he'd written songs before — Frank's been playing guitar since age 6, and became involved with Lowellville's marching band as a percussionist in seventh grade — he hadn't actually put them down on paper. And though he already had "a good basis of music theory knowledge," he'd not yet applied that knowledge to such a complex undertaking.
Luckily, he had Bob Antonucci, Lowellville's music teacher, as a mentor to offer suggestions and support. Frank also worked closely with Craig Suhar, his guitar teacher since his freshman year.
Per the project guidelines, students had to complete 20 hours of mentoring and also record their progress in journal entries, compose a research paper and finally present and demonstrate their work. Frank estimated that in addition to the required mentorship hours, he spent another 20 hours working on the composition by himself.
His meetings with Antonucci, then, became more of a place to "bounce ideas" around than anything else, Frank said. Antonucci added that the experience was one that consisted more of "guiding him" rather than instructing him, and that as a teacher, it was a lot of fun. It also was something no one at Lowellville had done before.
The project "is a culmination of a lot of musical skills and concepts," said Antonucci, who has taught at Lowellville for almost 20 years. "Nick really learned something. He went all out and saw it through. ... Nick's composition was definitely not at a beginner's level."
Antonucci explained that not only did Frank have to come up with and develop the concert-opener piece's melody, along with the chords that move underneath it, but he also had to assign specific parts to each instrument in the band — such as clarinets, flutes and trumpets — and adjust the keys accordingly.
Frank said he was "aiming for something kind of reflective" with "Flightline Aurora," and that a song titled "Hyperventilate" by Frost*, an English neo-progressive rock band, influenced its sound. Both "Flightline Aurora" and "Hyperventilate" feature the use of multiple time signatures.
During the course of the project, Frank learned to use a notational computer program, picked up the basics of conducting and led his classmates through about three weeks of rehearsals before the piece's debut. The latter two were somewhat intimidating and nerve-racking, he said.
Frank added that he'll not soon forget the first time the concert band played his piece, though.
"There were some mistakes," he said, "but it was just so cool to hear a bunch of people I know perform a piece I wrote."
He called the entire senior capstone project experience "very great," and one that he'd repeat. In the fall, Frank will begin his study of music therapy at Cleveland State University, with the hope of eventually working in geriatrics as a music therapist. It's a way to help people while being a musician, he said.
Antonucci, for one, said he can't wait to follow Frank's career — and that he intends to hang on to "Flightline Aurora" for future concert band performances.
"I think Nick's going to be very successful," he said. "He just has that musical ability. It's not often you see somebody like this."