Lion and Lioness clubs install new officers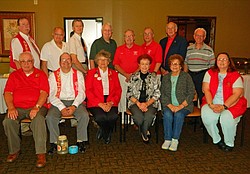 Photo
Neighbors | Submitted.The Lion and Lioness clubs officially installed new officers on June 16 at the 37th Charter Anniversary event at Rachel's Restaurant. Pictured are the 2014-2015 Lions and Lioness officers with installing officer Governor Elect Barbara Sorken.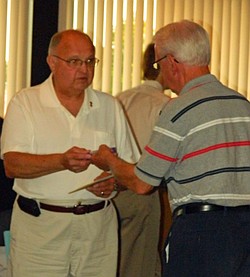 Photo
Neighbors | Submitted.Lion John Facemyer received the Lion of the year award from King Lion Bill Sywy on June 16.
On June 16, the Austintown Lions and Lioness Clubs had their Installation of Officers banquet and the Austintown Lions 37th Charter Anniversary at Rachel's Restaurant in Austintown with King Lion Bill Sywy presiding. Serving as Installing Officer was District 13- D Governor Elect Barbara Sorken from the Rootstown Lions Club.
Installed as officers for the Lions were President, John Susany; first Vice President, Bob Melcher; second Vice President, Jack Kochansky; Secretary, Harold Wilson; Treasurer, Larry Jensen; Tail Twister, Jim Banyots; Lion Tamer, Don Hoelzel; Membership Director/Public Relations, Bob Whited; 1-year Director, Glenn Ringer; 2-year Director, John Facemyer and Lioness Liaison, Larry Jensen.
For the Lioness Club it was President, Lori Stone; Vice President, Lou Skerkavich; Secretary, Teresa McCallen; Treasurer, Jane Grace.
Lion John Facemyer was presented the Lion of the Year award.