People brave rain for shot at casino jobs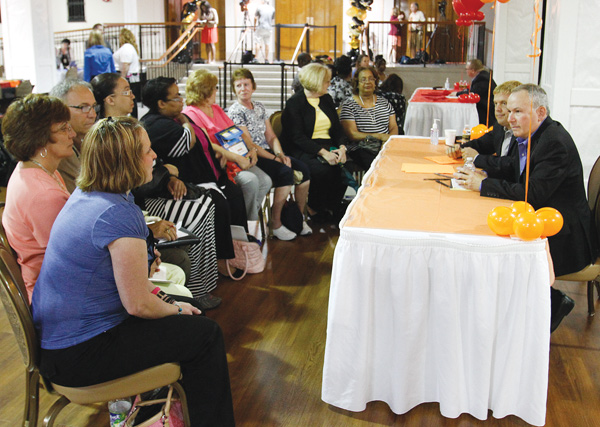 ---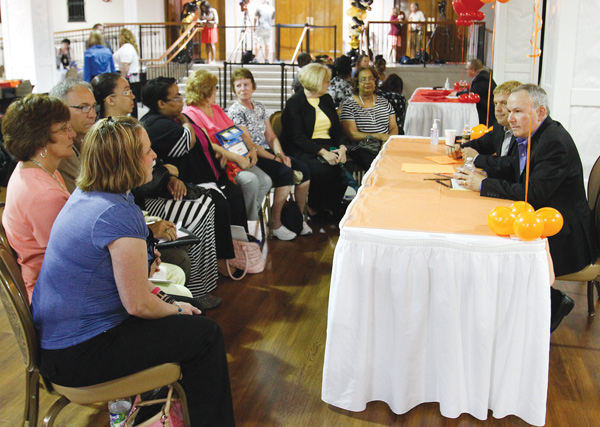 Photo
Mark Loewe, nearest chair, vice president at Hollywood Gaming at Mahoning Valley Race Course, and Bill Borck, also with Hollywood Gaming, interview prospective employees of the new racino at Stambaugh Auditorium Wednesday. The racino also hosted a job fair in Austintown earlier this month and is expected to open in the fall.
Staff report
YOUNGSTOWN
Despite pouring rain, nearly 1,000 people stopped by Stambaugh Auditorium on Fifth Avenue Wednesday for Hollywood Gaming at Mahoning Valley Race Course's second area job fair.
Scott Frost, director of marketing for Hollywood Gaming at Mahoning Valley, said about 1,800 people attended the company's first job fair June 9 in Austintown. The company is looking to hire 400 people for the that facility opens this fall.
The facility, offering video-lottery terminals and a one-mile racetrack, is being built at Austintown's CentrePoint Business Park west of Youngstown.
Frost said people began to flock to the auditorium as early as 9 a.m. The parking lot was mostly filled by noon; the event closed at 8 p.m.
"Right at opening, we had probably 200 to 300 people," Frost said. "We had to let them in early because of the rain."
Already, Frost said 30 to 40 positions have been filled.
"That's 10 percent of the workforce," he said.
Frost said the company wants to try to hire 90 percent of its workforce from the Youngstown area.
Queeta Hewitt, director of human resources with Hollywood Gaming, said people who had the best skills and talents suited to certain positions would move on to take part in second and third interviews. She said most of the job openings with the company are in the food and beverage area.
"We've got several different food venues at our property," she said. "So we need to fill a lot of spaces in that area front and back of the house."
Frost said he is not concerned with competing casinos in Erie, Pa., or Cleveland and believes that most jobs at the casino here should be secure.
"We hope these people will stay around for a while," he said. "We want them to advance in their career. Some with us have advanced after two or three years to upper management."
Gerald Moxley, 21, of Youngstown, works as a cook at Bill's Place in Austintown. He was one of the first people to interview for a cook position at the job fair, hoping to land a second job. Moxley said while he is not looking for a full-time job, he would consider it.
"I love to cook, and I want to broaden my horizons," Moxley said. "I got out of my interview, and it went wonderfully. They seemed to love me."
Moxley said he sees the casino's potential to thrive. He said he has made trips to a casino in West Virginia, where he will run into other people from Youngstown.
Tammy Palette, 43, of Warren, said she felt encouraged by the range of age in people who attended.
"If they look past my being 40-something, that's great," Palette said. "I'm not the only older person here."
Palette received her accounting degree five years ago and works during the school year as a substitute teacher for Champion Local Schools.
"But that's the downfall to subbing – it's part-time," she said. "I've applied to hundreds of places the last five years, and either I'm over- or under-qualified. I'd be happy to get anything here, though."
Ramona Moton, 53, of Youngstown, interviewed for a position in back-of-the-house work. She said she is hopeful about how the casino can help the area.
"I think this city needs and deserves something like this casino. It'll bring the jobs back to the Valley," she said.