Tribe's top picks lead Scrappers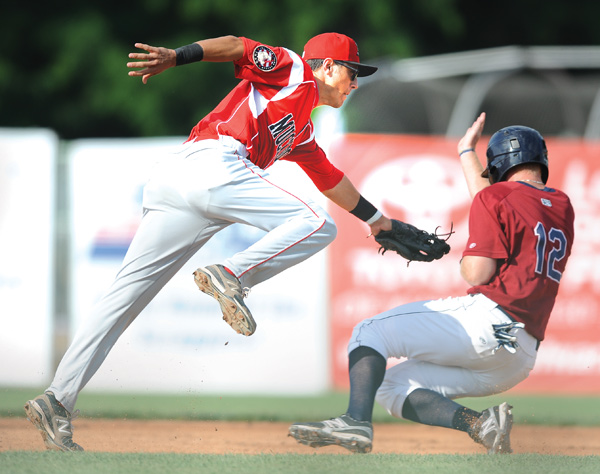 ---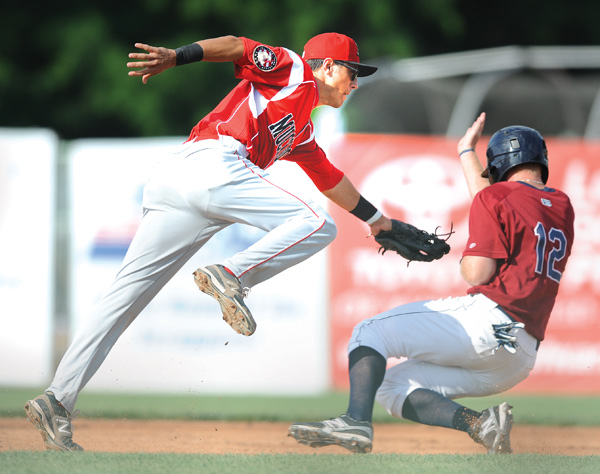 Photo
Muckdogs infielder Aaron Blanton attempts to tag Scrappers' Austin Fisher during a steal attempt in second inning of Game 1 of their doubleheader Wednesday at Eastwood Field in Niles. The Scrappers won the early game, 5-0, but lost the nightcap, 4-1.
By Steve Ruman
NILES
When the Mahoning Valley Scrappers wrapped up their first homestand of the season a week ago, they were batting a league-low .181 and desperately seeking an offensive spark.
At the time, Scrappers manager Ted Kubiak projected the spark "would come as our draft picks start finding their way into the lineup."
So far, the trio of Greg Allen, Steven Patterson and Taylor Murphy have made Kubiak a man of his word.
Since being inserted into the Scrappers' lineup over the weekend, the three recent draft selections have combined to go 17 of 39 with 8 RBIs.
On Wednesday, the three helped lead the Scrappers to a 5-0 win over Batavia in the first game of a doubleheader.
With Patterson and Murphy out of the lineup in the nightcap, the Muckdogs prevailed 4-1 to earn a split.
The Scrappers wasted little time getting things going in the opener. Allen led off the bottom of the first with a single, stole second, then scored on a Patterson double to center. Following a groundout and a walk, Murphy plated Patterson with a single to right.
The first inning scoring was capped when Leo Castillo knocked in a run with a groundout.
"This was a nice way to introduce myself to the home crowd," Patterson said of his first game at Eastwood Field. "The crowd was great. They were very receptive, so it was nice to have a good response."
Patterson played college ball at UC Davis, where this past spring he batted .324.
The three runs would prove to be more than enough thanks to a strong performance by Scrappers starter Sean Brady. The 20-year-old who was drafted last year out of high school earned his first professional win, pitching 52/3 scoreless innings. He gave up just three hits while recording two strikeouts.
After a rough first outing, Brady has worked 9.2 scoreless innings while surrendering just five hits.
The Scrappers (5-8) added a pair of runs in the second. Juan De La Cruz belted a solo home run to lead off the frame. Patterson then collected his fifth RBI with a two-out single.
Through three games, Patterson is 7 of 14.
"I'm just getting back into the game after being away from it for about a month, so I just wanted to come in here focused on doing all the things I've done throughout my career," Patterson said. "Having not faced live pitching for awhile, you get a little anxious. But I just stayed with my approach and so far it has paid off."
"It was important for me to get off to a good start. As a player you don't want to spend the rest of summer playing catch-up, so coming out of the gate strong can make a huge difference."
In the nightcap, the Scrappers again found instant success at the plate. Allen led off the bottom of the first with a single, stole second, then scored on a Castillo single.
However, the Scrappers' bats went cold from that point.
Meanwhile, Batavia (8-5) collected five hits in a three-run third which would be the difference in the game. Scrappers starter Juan Santana couldn't get out of the fourth, giving up eight hits and three earned runs.
The Scrappers return to Eastwood Field tonight to begin a four-game series against Jamestown. Tonight is Buck Night and Bring Back LeBron [James] Night.
ROSTER MOVES
The Cleveland Indians released a trio of Scrappers prior to Tuesday's game. They were; outfielders Nick Hamilton and Joel Mejia, along with infielder Garrett Smith
Hamilton was selected by the Indians in the 35th round of the 2012 draft out of Kent State. He is the son of Indians radio broadcaster Tom Hamilton. After playing in the Arizona Rookie League in '12, he split time between the Scrappers and Lake County a year ago. This year he appeared in three games for the Scrappers, going 0 for 7.
Mejia was signed as a non-drafted free agent in 2010. He played in 40 games with the Scrappers in 2013, batting .219. This year he appeared in seven games with a .138 batting average.
Smith was a 37th round pick in 2013 out of California Lutheran. He appeared in 18 games in the Arizona League last summer, batting just .059.