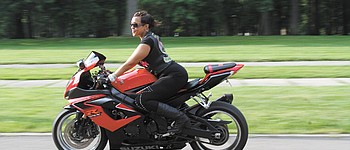 This sisterhood put Dangerous Curvez on wheels
Published: 6/26/14 @ 12:01
By LINDA M. LINONIS
linonis@vindy.com
YOUNGSTOWN
The sisterhood on wheels lives up to its name, Dangerous Curvez MC Inc.
Members of the motorcycle club, all females with womanly figures, travel the highways and byways of the Valley and beyond.
Yatasha Hill, nicknamed "Freeway," and Jennifer Jackson, aka "Butta," founded Dangerous Curvez MC Inc. a decade ago; the club is marking its 10th year. Sondra Jones, "Honey," is a co-founder.
Hill said she and Jackson were riding together in 2004. "There were cycle clubs that were co-ed but no all-female clubs," Hill said. "She and I decided an all-female club would be a good idea."
For the name, Hill said, the women "put their heads together" and came up with Dangerous Curvez. "It a dangerous and sexy name," Hill said.
Hill, who has ridden motorcycles for a decade, admits to a "passion" for them. "I like the control," she said of riding a motorcycle. As for the group camaraderie, Hill said, "We're a sisterhood."
Hill said the club generally tries to meet and ride between the first and third Sundays of the month. It's a flexible schedule because of work and family demands. She added the club gathers at homes of members.
"We'd love to have a clubhouse some day," she said.
Hill said the club has a $15 application fee to help make sure the applicant is serious.
The club christens new members with a nickname. "That's a tradition among motorcycle riders," Hill said.
Melanie Ross, "Sweet H2O," who is business manager and treasurer, added, "The club members pick your nickname to go with your personality."
Members wear leather vests with their nicknames and the club patch, a woman on a motorcycle, on the back. Below that is the "rocker," which denotes Youngstown. Club prospects are permitted to wear a vest with a rocker.
The current membership happens to be all black, but Hill said all races are welcome. Applicants must be 21 or older.
Ross has been riding motorcycles about five years. She got involved with the club because she liked the mission statement that promotes sisterhood, family values and helping the less fortunate. The club donates to various charitable organizations, many of which help women.

To that end, the club sponsors fundraisers with proceeds benefiting charitable causes. These have included Needle's Eye, Dress 4 Success, My Best Tea Party Club, Listen Up Ladies, Bikers Against Breast Cancer, Rescue Mission of Mahoning Valley, Casa Madre, Salvation Army, Sojourner House and local families who face a catastrophe such as a devastating fire.
She said some club members are in nursing, some work at General Motors, and others are hair stylists. Many are wives and mothers.
So why do they ride?
"Riding makes you feel free, but there's an edge to it," said club president Taneka Hogan, "Babydoll." She has been on the road since 2007 and has a Suzuki GSXR 600. She said she liked that the club is community-oriented.
The club's vice president, Courtney Brown, "Red," learned to ride in 2002 and got her motorcycle in 2006. "I've always had a passion for motorcycles. My brother taught me to ride," she said.
Riding for nine years, Sondra Jones, "Honey," is a club co-founder and secretary. "I always liked bikes for some reason," she said. "They're a lot of fun." She also said the "sisterhood" of members is a plus.
Ranesha Daniel, "2badd," said she followed the path of her dad, who rode motorcycles. "Riding enhances my sexiness," she said.
Fatimah Phillips, "Sweet-nez," has ridden about four years but now is off the road to focus on child-rearing.
"I rode by myself, but joining a club is like having sisters," she said. "I like the freedom of riding."
For Vickie Spencer, known as "Typsi," the club is an
avenue to a sisterly bond. "I have brothers. This is a way for me to have sisters," Spencer said. "Riding is a stress-reliever. And you meet new people all the time."
Gwen Bell, "Sugafree," also appreciates sharing a sisterhood with the other women bikers. She's been riding about eight years.
Riding for nine years, Camesha Edmonds, "Hypnotic," also said riding is a way to defuse stress. "It's 'me' time ... away from kids and husband," she said. "I enjoy watching the scenery go by ... it's so different than when you're in a car."
Marcia Tucker, a prospect of the club, is "probie22." She said trips to Myrtle Beach, S.C., where bike week is an annual gathering, sparked her interest. She's in the process of learning to ride her Suzuki GXSR 600. "I'm taking a basic rider's course," she said. "I've learned so much. Safety is a priority."
Members also noted that they are safety-conscious and wear helmets.
Don't Miss a Story
Sign up for our newsletter to receive daily news directly in your inbox.