Ratie-Carver nuptials set in Fellows Gardens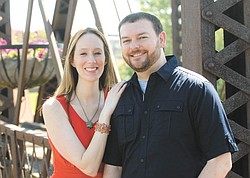 Photo
Alexandra L. Ratie and Andrew L. Carver
ELLSWORTH
Charles and Kathleen Ratie of Ellsworth are announcing the engagement of their daughter, Alexandra Lynn Ratie, and Andrew Lee Carver, both of Columbus.
Kelly Carver of Marietta, Ohio, is the future groom's mother.
Invitations will be extended for a ceremony at 4:30 p.m. Aug. 16 at the Kidston Pavilion at Fellows Riverside Gardens and the reception to follow at the Davis Center, also at Fellows Gardens.
The bride-elect attended Marietta College and graduated from George Washington University with a bachelor's degree in political science and a master's degree in public administration. She works as a human resources specialist for the National Institutes of Health in Bethesda, Md.
Her fiancé graduated from Marietta College with bachelors' degrees in accounting and computer information systems. He earned a master's degree in accounting from Ohio State University. He is an information technology audit specialist for Nationwide in Columbus.