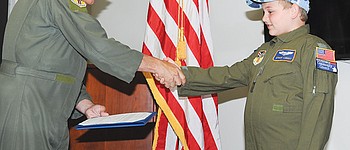 Ethan Libert was sworn in as honorary Air Force Reserve 2nd Lt.
910th Airlift Wing
Published: 6/26/14 @ 12:00
VIENNA
Ethan Libert's first thrill as an honorary Air Force Reserve second lieutenant and Pilot for a Day with the 910th Airlift Wing was a ride in a Marine Corps Hummer, an experience he described as "awesome."
Following his ride around the base in the Hummer, driven by Marine Cpl. John DeSantis, a 2011 graduate of Struthers High School, Ethan, 10, a fifth-grader at Niles Intermediate School, received his official uniform and was sworn in at Youngstown Air Reserve Station headquarters.
The purpose of the Pilot for a Day program is to reach out to the community by providing a fun-filled day of activities for children who live with a chronic or life- threatening disease.
Ethan, the son of James and Kimberly Libert of Niles, was diagnosed with Type 1 diabetes in 2011.
He is receiving treatment at Akron Children's Hospital Mahoning Valley, said Francine McBride, coordinator of the Pilot for a Day program at the hospital.
The Liberts have three other children: Kaitlyn Libert, 24, Garrett Libert, 21, and Chase Libert, 11, all of Niles.
His father, a four-year Navy veteran, works at the Ohio State Penitentiary in Coitsville; and his mother is a medical assistant at ValleyCare Urgent Care in Austintown.
Despite being insulin dependent, Ethan tries to have a normal as possible life. Last week he attended a camp for diabetic children sponsored by Akron Children's, his mother said.
After being sworn in, Ethan received a model of a C-130 Hercules aircraft flown by the 910th from Fred Kubli, a representative of the Youngstown Air Reserve Station-Base Community Council, financial co-sponsor of the Pilot for a Day program.
Other activities for Ethan included a tour of the support shop, firing the Fire Arms Training Simulator, a ride on a base fire truck, and being taxied down the main runway aboard a $33 million C-130.
Ethan said in the morning he was having a very good time and was particularly looking forward to shooting the weapons simulator.
Don't Miss a Story
Sign up for our newsletter to receive daily news directly in your inbox.