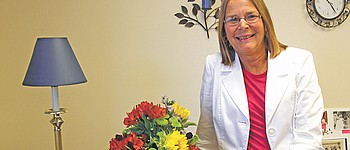 Chancellor retires after 40-year career in diocese
Published: 6/26/14 @ 12:02
By LINDA M. LINONIS
Youngstown
For Nancy Yuhasz, no two work days have been alike in her 40-year career in the Diocese of Youngstown.
The chancellor's last day on the job will be Friday; her official retirement date is July 1.
She takes with her many memories ... many happy, some sad, but mostly satisfying. "Knowing I was able to help people," she said is the greatest reward. "Faith played a part in it ... I wouldn't have been able to do the work I did."
Yuhasz was the first lay person to serve as chancellor in the diocese, where she started as a secretary in 1974. "I heard about an opening by word of mouth," she said.
While working at the diocese, she studied at Youngstown State University and earned a bachelor's degree in elementary education though she never taught. Yuhasz received a master's of business administration in church management from the Graduate Theological Foundation in Donaldson, Ind.
"Getting that degree was one of the best things I did," Yuhasz said. "I learned so much about 'church work' in classes but also from other participants who were from all faiths."
She said resident weeks at the foundation provided time for exchange of information and ideas among students. What she learned she put to good use in Youngstown. "I wanted that formal education to go along with the experience I had," she said.
Yuhasz said the chancellor focuses on canonical responsibilities.
"That's about canon law ... church law," she said. It also involved maintaining the diocese's archive of official documents. "I had to make sure everything was signed and sealed," she said. "Everything had to be kept in order because it's the official history of the diocese."
Yuhasz said she has referred to the chancellor's position as the "default office." "If there was no place else for a job to go, this was it," she said. In addition to the canonical role, she handled media and public relations, human resources and the Child Protection Policy.
She credits her career, spanning the tenures of five bishops, to the late Bishop James W. Malone (1968-95). "He was very encouraging to me," she said. "With him, it didn't matter if you were a man or woman, ordained or not, it was about your ability to get the job done," Yuhasz said. She was assistant chancellor and administrative assistant to Bishop Malone.
Yuhasz has served Bishop George V. Murry since he was installed March 28, 2007, as the diocese's fifth bishop. She also worked with Bishop Thomas J. Tobin from 1996-2005 and the late Auxiliary Bishops Benedict C. Franzetta, 1980-96, and William A. Hughes, 1974-79. Bishop Tobin named her chancellor.
"Each has his own style," Yuhasz said. "I have fond memories. The people I work with are like family," she said.
Yuhasz pointed out it was Bishop Malone who initiated a Child Protection Policy in the diocese in 1994 before it was mandatory in 2002. "He started it before it was required because he knew protecting children was a priority," she said.
Yuhasz said the best part of her job has been "being an asset to clergy, parish staffs and parishioners." She cited the diocese reconfiguration plan in which some churches closed and others merged under new parish names. Armed with documentation, Yuhasz helped parishes navigate through questions from banks and the Internal Revenue Service. "There was a lot of paperwork with that," she said.
The most upsetting times were listening as victims of clergy abuse recounted what happened to them as children. "The diocese provides spiritual and therapeutic counseling," she said. She added that the diocese has policies in place and does background checks on staff and volunteers who work with children.
When Yuhasz retires, revisions to the chancellor's duties will be implemented. Bishop Murry named Monsignor John A. Zuraw as chancellor, effective July 1, and he will oversee pastoral and educational services. He holds a degree in canon law, which will benefit the canonical responsibilities of the job. Tom Sauline, catechetical consultant for the Office of Religious Education, was named administrator of the Child Protection Policy on May 29, effective July 1. Other duties such as public relations and human resources will be assigned to diocesan staff.
In retirement, Yuhasz said she looks forward to "having time to do what I enjoy." She and her husband of 39 years, Gary, who is retired, will spend more time at their place near Lake Erie. Yuhasz also plans on more family time with her mother, Dolores Tocheck of Boardman, and niece and her husband in Arizona with her new grandnephew and a nephew in the Valley.
"I'll see where retirement takes me," she said. "I'd like to write a novel ... I have several ideas."
Don't Miss a Story
Sign up for our newsletter to receive daily news directly in your inbox.