Burgess-Bruss plans are made for August 30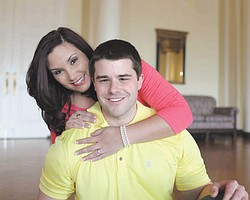 Photo
Carrie A. Burgess and Thomas G. Bruss
CANFIELD
Carrie Ann Burgess and Thomas Gilbert Bruss, both of Canfield, are engaged, they are announcing.
Her parents are Jeff and Cathy Burgess of Olean, N.Y., and his parents are Tom and Marianne Bruss of Canfield.
The couple will exchange vows at a 1:30 p.m. ceremony Aug. 30 at St. Charles Church, and a reception will follow at Holiday Inn, both in Boardman. Invitations will be extended for both events.
The bride-elect is a graduate of St. Bonaventure University, where she earned a bachelor's degree in biology. She earned a doctor of pharmacy degree from Lake Erie College of Osteopathic Medicine School of Pharmacy. She is a pharmacist for Rite Aid at various locations in Mahoning County.
Her fiancé graduated from Youngstown State University with a bachelor's degree in food and nutrition. He is a personal trainer and nutritionist at Fitness Together in Canfield.