HBA gives Hubbard stabbing victim some solace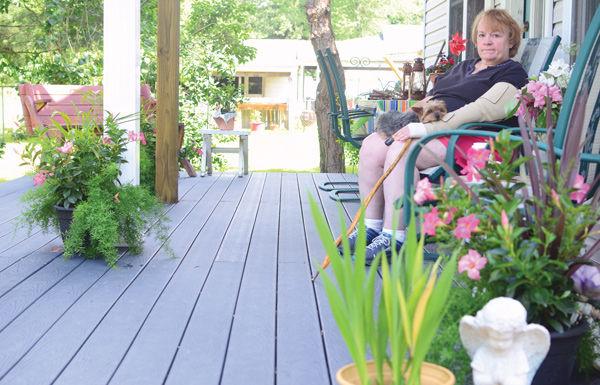 ---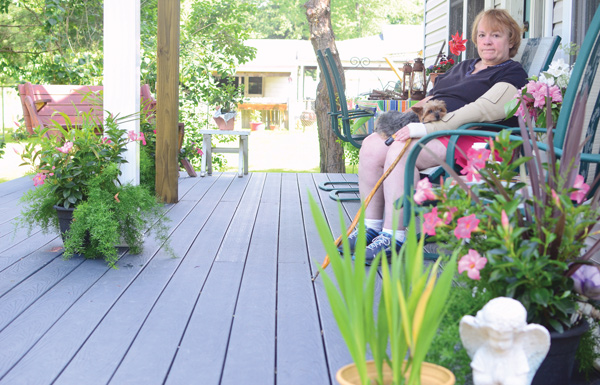 Photo
Linda Clark of Hubbard and her dog, Harry, enjoy their new deck, built by the Home Builders & Remodelers Association of the Valley as part of its 2014 community service project. Clark continues to recover from a November 2013 stabbing she suffered when a man attacked her at Sharon Regional Health System.
By KALEA HALL
khall@vindy.com
HUBBARD
They say a house is not a home without a garden — and having a two-story deck just adds to the picturesque view.
For Linda Clark of Hubbard, her new deck fixed with wind chimes and flowers allows her to find blissful peace.
The deck, built by the Home Builders & Remodelers Association of the Valley in May, is her haven as she copes with the painful past seven months. She hopes the deck will get her back to a love of painting.
"I absolutely love it," Clark said of her deck. "It's just gorgeous. I am saving up to put in a lily pond. That is my next goal."
Clark cannot work and walks with a cane because she still has trouble with her balance, her left arm is wrapped and hangs to her side and a scar extends across her neck. A man had become frustrated last year at Sharon (Pa.) Regional Health System when he was not
given the pain medicine he wanted, and seemingly took out his anger on Clark who was working as the greeter in the emergency room that Sunday, Nov. 10. She had been in the position for seven months and never once feared anyone who walked in for help.
"I would help people fill out forms and get everything ready to go," she said. "This gentleman had come in often. I had no reason to fear him. I didn't realize what a dangerous situation I was in."
Justin Michael DelFratte, 31, of Sharpsville, Pa., is accused of stabbing Clark as she talked on the phone to her husband and son.
"Next thing I know there is a sharp pain in my neck," she said. "I dropped the phone and said, 'Oh my God, I've been stabbed.'"
Clark was immediately assisted by her co-workers as they worked to save her life.
She told them, "You cannot let me die. I cannot leave my kids."
Most importantly, she did not want to miss her daughter Sarah's graduation from Hubbard High School this year.
She had multiple surgeries on the life-threatening injury. Three arteries were cut and a nerve was severed in the attack — one of the arteries cut led doctors to fear she would become brain dead. She lost seven units of blood and had to be flown by helicopter to Allegheny General Hospital in Pittsburgh. She remained in the trauma unit for two weeks.
"They prepared my family for the worst," Clark said.
But she is here today. She saw her daughter graduate and can embrace the joy of a new deck while continuing therapy for her injuries and gaining the strength to paint her murals again.
DelFratte is in Mercer County jail charged with attempted criminal homicide and three counts of aggravated assault.
After the incident, Sharon Regional increased security measures with a security staff, additional use of electronic surveillance and screening techniques, as well as the implementation of increased security procedures.
"I can't let it make me afraid," Clark said.
The HBA completed her deck equipped with a balcony in May after just a week of work. Clark asked the HBA about having it finished when it offered to do the work free.
"I am an artist and I would do portraits of the new homes they built and their new presidents," she said.
The deck was partially done when HBA members came to finish it up as one of many community service projects the association does every year.
"Linda has been a resource to the HBA of the Valley for years through her portraits of HBA presidents and paintings of Parade of Homes houses. We were deeply saddened to hear of her trauma in 2013 and happy to help her family complete a beautiful deck for her to enjoy while she continues to recover," 2014 HBA President Bill Clipse wrote in a statement.
The HBA businesses involved in this project were Meander Homes, ARA Home Remodeling LLC, Carter Lumber and Banner Supply. Lowe's donated deck pots.
"I have wanted this [deck] for so long," she said.