Mancini begins preliminary work on reality TV show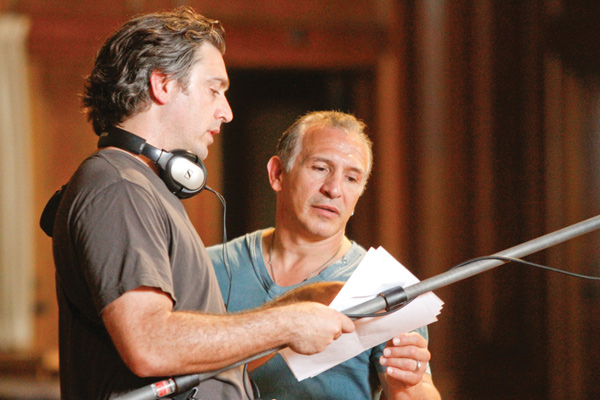 ---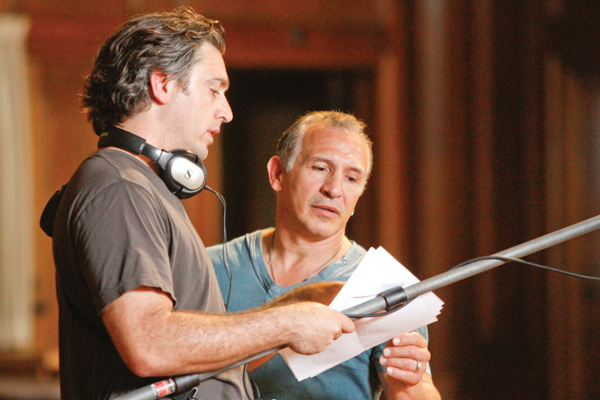 Photo
Director Jesse James Miller, left, works with Ray "Boom Boom" Mancini while shooting a segment Monday at the Ohio One Building downtown for the former boxing champ's proposed reality TV show.
By GUY D'ASTOLFO
YOUNGSTOWN
Ray "Boom Boom" Mancini is back in Youngstown this week to begin preliminary work on a reality TV show.
Tentatively titled "Boom Goes Home," the series follows the former lightweight boxing champion and his family as they move from Los Angeles to Mancini's hometown.
If the series is picked up by a network, it could begin airing as early as this fall, most likely on a cable network such as Spike, A&E, Bravo or Discovery.
Jesse James Miller is the director of the series, and Ken Johns is the cameraman and a producer. Miller directed "The Good Son," the 2013 documentary about Mancini.
On Monday, Miller and Johns were scouting locations and shooting segments at various spots in Struthers and downtown Youngstown, including the Ohio One Building, where Mancini is setting up a film production studio.
Miller and Johns will create a "sizzle reel" to show to networks and production companies. One such company already is very interested in the series, said Miller.
In "Boom Goes Home," Mancini returns to Youngs-town to set up his own film-production company. Each episode will follow the former champion and South Side native as he meets with officials, locals and others in the process of getting the company off the ground.
"I've wanted to do this for a long time," said Mancini, referring to his goal of setting up a film company in his hometown. "I've turned down offers to do series in the past, and the reason I'm doing this one is because it's about something. I'm building something here."
Even if the series is not picked up, Mancini will pursue the production company, which would handle all types of film work, including feature films. He said he is already in talks with two major production companies who are interested in shooting in the city.
The Youngstown area, said Mancini, offers locations that could stand in for anything from a major city to a bucolic countryside. But it's biggest advantage is its cost-effectiveness. In other words, said Mancini, it's cheaper to shoot here than the more-established film centers.
But that's not the city's only advantage.
Miller, the director, said Youngstown has a natural look that can't easily be duplicated.
"It is like a Hollywood back lot," said Miller, who noted the city's human diversity, the openness of its streets and structures, which makes shooting easier, and just the overall way it looks.
Another benefit is the lack of red tape. Miller is from Vancouver, Canada, and has worked in that city and Hollywood. "You can just walk into city hall here and don't have to acquire permits for everything," he said.
Miller, by the way, recently found out that his grandmother is from the North Side of Youngstown and spent the first part of her life in the city.
Each episode of "Boom Goes Home" will begin with an introductory segment that lays out the premise. It features Mancini standing with his sons and his wife, Tina (Rozzi), a Campbell native.
Mancini explained the segment.
"I say, 'I'm Ray "Boom Boom" Mancini from the steel city of Youngstown, Ohio. In 1982 I became the lightweight boxing champion of the world. In 1985, I followed the bright lights of Hollywood and moved to California. I have a beautiful family, but now it's time to take this show on the road. We're moving back to Youngstown.'
"At this point my wife celebrates and says, 'Yes!' but my son looks shocked and says, 'What the ...?' That part gets bleeped out. And then I'm shown again, laughing."
Reality shows do not have pre-written dialog, but their stories are set up in advance. In the first episode of "Boom Goes Home," Mancini breaks the news to his family and they move to Ohio. In the course of a day, Mancini meets with financiers, his wife gets her hair done, and son Ray Ray wants to go to the beach.
Mancini said the series will "play it real" and will not revert to over-the-top antics. But the city's colorful characters will definitely be a big part of it.
"I read vindy.com every day," said Mancini. "Let's face it — Youngstown is a reality show. I say that with all love, but it is."
If "Boom Goes Home" does get picked up by a network, it would become the second reality show based in Youngstown this year. "Fat & Furious: Rolling Thunder" premiered Monday on Discovery. It follows the crew at Christmas Automotive in Boardman as it prepares cars for drag racing.
More like this from vindy.com