New club drives Andric in GGOV qualifier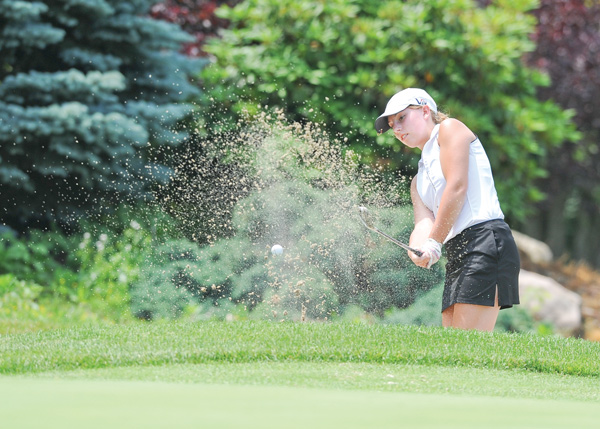 ---
SALEM
Greatest Golfer Junior Qualifier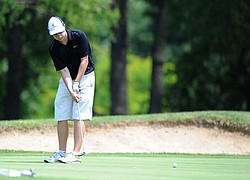 Gallery
A good craftsman never blames his tools.
However a good golfer knows when it's time to change equipment, and Avery Andric was in need of a switch.
The normally straight-hitting Andric suddenly found himself missing fairways off the tee more often than not, so he decided to get a new driver over the weekend. In his first full round with the new driver, Andric shot a round of 8-over par 80 at Salem Golf Club on Monday, which was good enough to qualify him for the Greatest Juniors championship next month.
Not a bad return on his investment.
"Playing out of the fairways is a little easier than hitting out of the trees and pitching out and trying to save [par]," said Andric, who will be a junior at Lisbon High School. "I hit my balls off the tee a lot better today.
"The driver's staying in the bag."
Andric was coming off a disappointing round in Friday's qualifier at Tam O'Shanter, where he shot 94. He was happy about the quick turnaround to get the poor round off his mind. Now he'll shift his focus to the championship at Avalon Lakes Golf Club on July 27. He'll join Billy Colbert, Bradley Miller and Nolan Snyder as qualifiers in the 17-and-under division.
"I want to compete. I don't know if I can contend, but I want to compete," said Andric of his chances against the area's top juniors. "They're good players, but I think I can play with them."
Nicholas Braydich finished two shots behind Andric to place second for the second time in four events. He's placed in the top three in all four events this year, and leads the points standings by a comfortable six points with 17.
If anyone was the favorite to qualify in the girls 17-and-under division coming into Monday's event at Salem, it was probably Kerra Loomis.
The Canfield senior has been hard at work on her game to start the summer, and she's beginning to see results. Plus, she qualified for last year's Greatest Juniors championship at Salem Golf Club.
"I actually don't play here often, only during The Vindicator tournaments," said Loomis, who shot 88 to qualify. "I guess I was just feeling really confident about my game today. I've been practicing every day, so I just feel really good about my swing."
Kaylee Neumeister shot her third round of 80 in four qualifying events. She secured a spot in the finals in the first event, but hasn't let her foot off the gas since then. Loomis joins Neumeister, Jacinta Pikunas and Christina Cooper as qualifiers.
"It feels good," said Loomis. "I've been working really hard, so it feels good to finally qualify."
Loomis finished two shots ahead of the division's new points leader, Alexa Tringhese. Through four events, Tringhese has 16 points.
Because of the quick turnaround from Friday's qualifier to Monday's, the younger divisions were limited to nine holes. Boys 14-and-under points leader, James Graham, took advantage and scored low. His round of 37 was seven strokes better than any of his other competitors and was an impressive 1-over par. He can now relax until the championship event.
Bobby Jonda has a stranglehold on the points lead with 17. Keegan Butler is the next closest with 10 points.
In the girls 14-and-under division, Emily Marcavish and Britney Jonda played together, with Marcavish shooting the lower score for nine holes. Jonda leads to standings, but with only two events left, she and Jenna Jacobson have the inside track on qualification.