Reception set to honor 50th of Mr., Mrs. Woods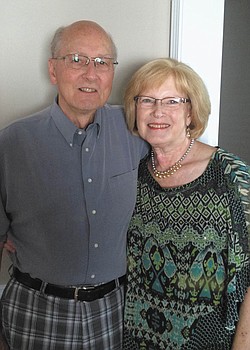 Photo
INDIAN LAND, S.C.
Margaret Woods and James R. Woods Jr. of Indian Land, S.C., formerly of Poland, will celebrate the 50th anniversary of their wedding on June 28 with a reception at the Lake Club.
Invitations have been issued for the celebration, which their family will host.
The couple have three children, Jennifer (Dwight) Stone of Waxhaw, N.C.; Brian (Brian Dahlvig) Woods, of Minneapolis, Minn.; and Travis Woods of Indian Land.
They also have three grandchildren, Ciara, Cailin and Celena.
Mr. Woods and the former Margaret Clair Chun were married June 6, 1964, at First Presbyterian Church in Waco, Texas.
They are members of Cornerstone Presbyterian Church in Boardman and Trinity Presbyterian Church in Lancaster, S.C.
Mrs. Woods retired in 2010 after working as office manager for Youngstown Thermal in Youngstown. She is a member of a neighborhood garden club and is a church organist.
Mr. Woods retired in 2003 as a loan officer for First Place Bank in Boardman. He also had worked for Youngstown Sheet & Tube in Youngstown. He is a member of Gideons International and the Organization of Protestant Men. He is a U.S. Air Force veteran.