SOV Boardman hosts pie eating contest and Wizard of Oz costume contest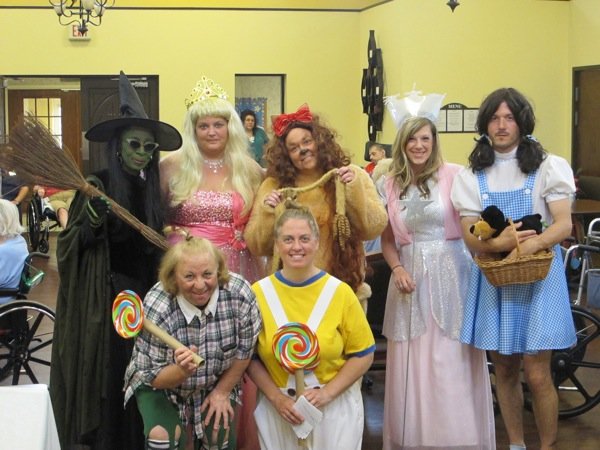 ---
By TIM CLEVELAND
To celebrate National Nursing Home Week from May 12-16, Shepherd of the Valley Boardman Campus selected the theme "There's No Place Like Home" from "The Wizard of Oz" for its events.
On May 14, SOV Boardman Campus hosted an apple pie eating contest and "Wizard of Oz" costume contest.
"We had the idea a couple months back," said administrator Robyn Musgrove. "We started planning and gathering up ideas and just brainstorming. Every year [at Shepherd of the Valley] they do some sort of an eating contest. Because of the apples in the movie, we decided to do apple pie. We've got two people signed up – [aid] Nicole [Goodwin] and [maintenance director] Joe [Gear] and they're both going to participate. The residents are going to be the judges for the costume contest."
After the apple pie eating contest had already begun, physical therapy assistant Doug Rose entered as well.
The contestants had five minutes to eat as much apple pie as they could.
While Goodwin and Rose used their hands and were able to eat about half of their pie, Gear opted for the face-first technique. He dove right in and finished almost an entire pie, except for most of the crust and a little filling.
"It was pretty good," he said. "I'm a little sick right now. I'm the reigning champ from last year."
For the costume contest, several SOV Boardman Campus workers dressed up as various "Wizard of Oz" characters, including Glinda the Good Witch, Munchkins, the Cowardly Lion and Dorothy.
Housekeeper Patty Dean, as the Wicked Witch of the West, was judged by the residents as the best. She finished with 10 votes, nearly double the runner-up.
"I feel great," she said. "They asked me [to be in the contest]. I went in and got some makeup. One of my co-workers gave me the cape and the dress and the rest I did myself."