Rasey, Cupan lead Trumbull in Jack Arvin Classic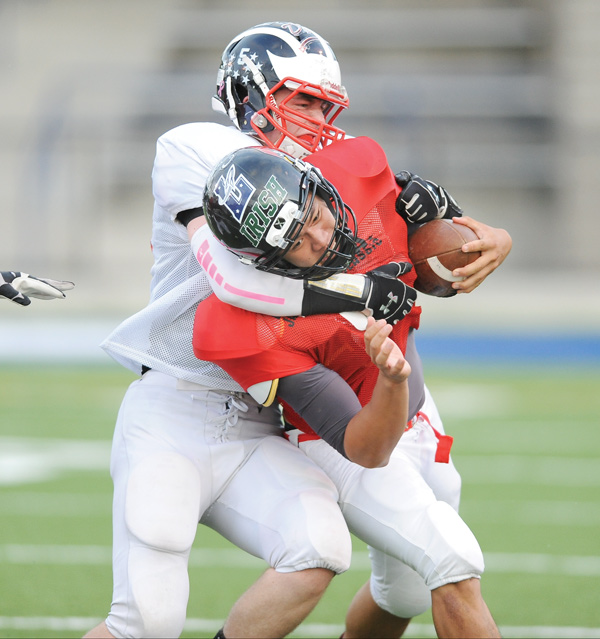 Photo
Trumbull's Nick Sanchez of Niles stops Mahoning-Columbiana's Kimu Kim of Canfield in the third quarter of the Thursday's MVCA's all-star football game in Hubbard. Trumbull won 27-15.
Trumbull's tiny spark lifts all-stars past Mahoning-Columbiana in Jack Arvin Classic
Hubbard
On a field full of the Valley's best senior football players, 5-foot-5 Jacob Rasey from Champion stood out the most.
The speedy running back didn't start for the Trumbull County all-stars in the Mahoning Valley Coaches Association Jack Arvin Classic on Thursday at Hubbard Memorial Stadium. However by game's end, Rasey had the Mahoning-Columbiana County all-stars on their heels and staring at a 27-15 loss.
He entered the game toward the end of the third quarter and Trumbull team coach Brian Shaner immediately called his number.
"I was just itching to get it," Rasey said. "Sitting on the sideline, watching, learning where the holes were, trying to adapt to it."
It may have been an all-star game, but both defense's weren't about to let up. Having to answer a Kimu Kim 75-yard touchdown run for Mahoning-Columbiana early in the second half, Trumbull kept the ball on the ground trailing 9-6.
Enter Rasey.
"My quarterback helped out a lot," he joked. "I got in and didn't really know what was going on. [Nick Cardiero] told me to stay wide."
Rasey took his third handoff of the game and swung out wide into the open field. Twenty-seven yards later — with a lunge and some luck — Rasey found himself in the end zone.
"My line did a great job, but the corner did a great job stock-blocking and it was just there. It was luck," the Champion grad said. "That was luck. That's the only thing I can explain there."
His coach gave him more credit after the game. Shaner, who was coaching in his third Jack Arvin Classic, knows what it takes to win an all-star game.
"He's a kid with a lot of heart and a lot of determination," Shaner said. "He is the prime example of why you should not look at size to judge a player.
"He's a great football player and he did a great job to give us a little bit of a spark tonight."
Rasey finished with just four carries, but gained 47 yards and a score. His Trumbull teammate, Girard's James Cupan, was named team MVP carrying most of the load with 111 yards on 16 carries and two touchdowns.
It was his 3-yard plunge into the end zone, with 1:43 left in the game, that sealed the win for Trumbull.
"Each and every time you go out there and compete, you try to get that win," Shaner said. "I can't say enough about these guys. It was such a great experience."
It was a defensive clash in the first half. The Trumbull side delivered a number of crunching hits early in the game, the biggest coming in the second quarter when Howland's T.K. Fortson ran through Mahoning-Columbiana quarterback Gary Muntean on his blindside.
Then, with 53 seconds left in the half, Cardiero connected with Justin Lopes on a fourth-down pass. Lopes was crushed by Canfield's Alec Buchenic in front of the first-down sticks.
Buchenic got up and stood over Lopes and the Canfield player was flagged for taunting on the play.
Kimu Kim was the biggest weapon the Mahoning-Columbiana team had. The Canfield dual-threat quarterback rushed four times for 77 yards, including the long TD run to start the second half. He also caught four balls for 60 yards.
He was named team MVP.