Middle school hosts STEM showcase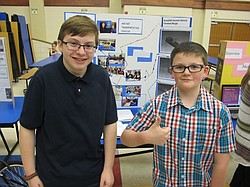 Photo
Neighbors | Tim Cleveland.Austintown Middle School students Matthew Bodnark (left) and Dillon Fitzpatrick posed in front of their ancient transportation vehicles display at AMS's STEM showcase.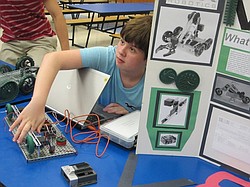 Photo
Neighbors | Tim Cleveland.Neil Truslow of Austintown Middle School displayed his VEX robot during the school's STEM showcase.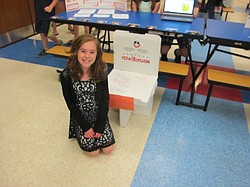 Photo
Neighbors | Tim Cleveland.Austintown Middle School seventh-grader Cindy Laughner posed in front of the pizza box chair she and her partner Victor LaRose conceived and designed.
By TIM CLEVELAND
On May 21, seventh- and eighth-grade students at Austintown Middle School displayed the fruits of their hard work during the STEM [Science, Technology, Engineering, Math] showcase, which was hosted in conjunction with Mahoning County Educational Service and 21st Century Learning.
"Teachers are on the ground working with the students every single day," said 21st Century Learning director Mariel Sallee. "I make sure they have supplies that they need.
"It's really more about the kids having the opportunity to showcase the things that they are doing in their classrooms every day. A lot of the projects that we do are really kid-centered and kid-focused. When you see the different things the kids are working on here in the showcases, they built all these showcases for everybody. They're really showing off the things that they do in class on an everyday basis."
The STEM program offers seventh- and eighth-grade students a project-based and student centered learning environment with a focus of 21st century skills. Sallee gave some background about the origins of the program.
"A few years ago, a partnership began between Austintown and Mahoning County Educational Service Center," he said. "The person who was in this position before me, Janet Polish, she is now at the county, she was charged with the vision of putting together a STEM program in Austintown. Our students are self-contained, so they stay with each other all day.
"We wanted to bring inquiry-based learning to Austintown. We wanted to have the STEM components, so we partnered with Project Lead the Way, which really provides us with a lot of the activities that we do. Our teachers really do a nice job of aligning to the standards."
Some of the projects included live 3D printing, VEX robotics, DNA extraction, windmill design, AutoCAD, circuit boards, soap box derby cars, rocket and airfoil design, weather balloons, and a chair made from pizza boxes, tape, hot glue and cardboard. The chair was designed by seventh-graders Cindy Laughner and Victor LaRose.
"We sketched a lot of different ideas and he thought that the base would be sturdy if we made it cross-wise, like a T," Laughner said. "[LaRose] just came up with it. He said that maybe it would be sturdier that way."
Laughner said the chair is sturdy enough that it can be sat upon.
"We had one of the teachers sit on it, actually," she said.
Several of the students also built cars that were entered into the soap box derby.
"They built the cars, they made adjustments to the cars," Sallee said. "They did everything that was necessary for them to race in the race on Saturday and they were very successful."
Sallee said the project was a complete success.
"The kids have done an awesome job this year," he said. "This is my first year in the program, and it's really been a great partnership with the ESC and our teachers have done a phenomenal job of incorporating all these different concepts into their classrooms every day."
Sallee was asked which projects especially stood out in his mind.
"The students did an awesome job with the windmill," he said. "The medical unit was very interesting. They had temperature probes and students were learning the different variability in using the temperature probes. It doesn't always work out exactly like they want it to. Even the names of the different things that they do, like energy in the environment, magic of electrons, are very interesting.
"One day I walked in class and students were doing an electricity unit but they were soldering. They were doing all of the work that someone would do in that field."