Miss Gonda, Mr. Ostrowski plan July rites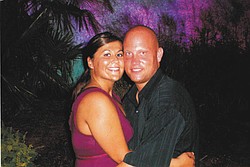 Photo
Bonnie L. Gonda and Jason J. Ostrowski
William and Barbara Gonda of Austintown and George and Regina Ostrowski of Campbell are announcing the engagement and upcoming wedding of their children, Bonnie Lynn Gonda and Jason John Ostrowski, both of Austintown.
Invitations will be issued for an 8 p.m. wedding July 7 at Mandalay Bay Beach and for a reception to follow at Border Grill Restaurant, both in Las Vegas.
The future bride is a graduate of Youngstown State University, where she earned a master's degree in elementary reading. She teaches kindergarten for Austintown Schools.
Her fiancé is a sales representative for Frito Lay in Warren.