Heather Kisner, Willie Hylton Jr. plan wedding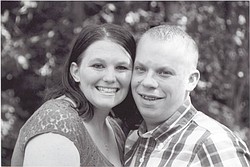 Photo
Heather Kisner and Willie Hylton Jr.
AUSTINTOWN
Heather Kisner and Willie Hylton Jr., both of Austintown, are engaged, their parents are announcing.
Her parents are Michael and Marsha Kisner, both of Salem, and April Garrett of Washingtonville. His parents are Gail and Willie Hylton Sr. of Austintown.
The couple are planning to marry at 1 p.m. July 5 at St. James Meeting House in Boardman Park, and a reception will follow at The Elm Tree in Struthers. Invitations have been issued for both.
The bride-elect graduated from Ross Medical Center with a medical assistant degree. She is a homemaker.
Her fiancé is a field supervisor-service technician for Mr. Rooter Plumbing in Youngstown.