Published: Wed, June 18, 2014 @ 4:12 p.m.
Madam Weez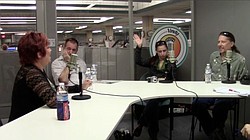 Video Set
Vindy Radio will be live from 8 a.m. to noon June 20 with host Louie Free.
Along with his regular programming, Free will welcome a few special guests!
At 9 a.m., John Phillip Souza IV, the only living direct decedent of Star Spangled Banner composer John Philip Sousa will call in to talk to Louie. He served in the Air Force and currently serves as honorary chairman and board member of the Enduring Freedom Killed in Action Fund. He'll talk about his passion for government.
At 10 a.m., Madam Weez will visit us to chat and perform. She has been covering Stevie Nicks tunes for over 30 years and she's playing a show at River Rock at the Warren Ampitheatre at 5 p.m. June 21. The visit will give listeners a small taste of her big show at the Amp.
Come 11 a.m., David Slanina, a representative for Youngstown's Simply Slavic Festival, will come in to talk about the June 21 event. The festival began in 2011 to educate both the region's large number of Slavic descendants and the community-at-large about Slavic heritage. Listen in to learn a bit about Slavs, and visit the festival!
Go to vindy.com/radio to listen to the show live, or vindy.com/mobile/vindy-radio to listen from your smartphone.
Click here to listen to the show.
Vindy Talk Radio Studio: 330-333-4454