Published: Wed, June 18, 2014 @ 12:00 a.m.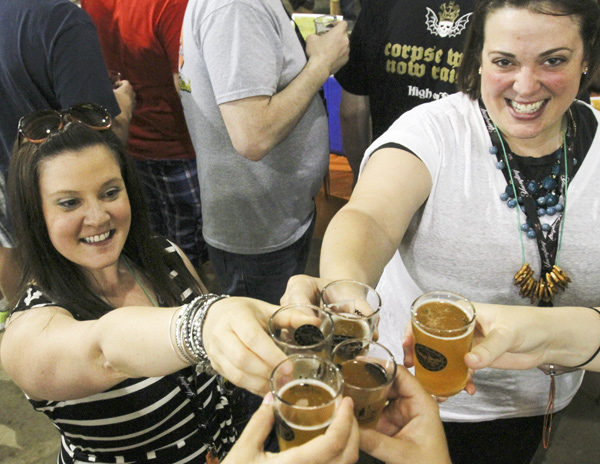 Photo
Leanne Nagle, left, of Beaver, Pa., and Kristi Williams of Beaver Falls, Pa., toast with friends during Big Tap In.
about VALLEY VINO
Contact Brian at brian.fry@myvalleyvino.com or by visiting www.myvalleyvino.com.
On vindy.com: stay up to date with Brian's tastes and travels 24/7.
Boardman
It was pretty clear up and down the 224 corridor. The Big Tap In Real Craft Beer Festival has evolved from one of the most important beer events in our geographic region to one with the most impact that comes here on an annual basis.
The good vibes started from the very top of the event, which took place May 31 at Shepherd Events Center on South Avenue. Co-organizer Phill Reda was evidently vibrant with enthusiasm.
"I feel this is the best Big Tap In we've had so far. Look around you; it's about more than beer now."
The vibe was clearly evident among those waiting in line to attend the sold-out VIP session. A high percentage of those waiting to attend were from outside the Valley including Mike Strosnider, who traveled with a group of six people from Pittsburgh for the event.
"A group of our friends started going a few years ago. You just can't miss this event if you are really into craft beer," he said with a smile.
Strosnider's story was typical up and down the line waiting for admittance to the VIP session. A big percentage of those in attendance were from outside the Valley and had booked hotel rooms weeks in advance.
The impact is felt most heavily right here at home with the proceeds from The Big Tap In benefiting local charity Making Kids Count. Co-President Jana Coffin identified two specific programs the Big Tap In helps to fund.
"This is out biggest fundraiser of the year. This event funds our backpack program, which provides a bag of food every Friday for 75 kids at McKinley Elementary in Lisbon throughout the school year."
The Big Tap In also affects the youngest Valley residents, with proceeds benefiting a diaper bank program that serves over a thousand families each year.
Dozens of local businesses use the Big Tap In to market their products. Uncle Jim's Pepper Mustard of Champion had a busy table throughout the event. Owner Jim Scher has brought his mustards to the event all five years.
"We really saw a big increase in traffic after the first two years. Now, this event has a life of its own, and being here brings lots of exposure to our business."
Heidi Goldberg's company, Bodygoodies, had a table selling artisan, handmade soaps, three of which smelled like IPA, Stout or Bock beer. When asked why a soap company would come to The Big Tap In, she smiled.
"We make beer soap. Really good beer soap. Where else would we want to be to show it off to people in our area?"
The enthusiasm for the event as a great business opportunity was evident throughout the venue. Co-organizer Sandy Reda was thrilled with the results.
"I feel this is the best Big Tap In we've had so far. The energy in this room is amazing."
It is that energy and enthusiasm that has the craft beer and local business community already looking forward to next year's event.