Board of elections proposes Youngstown ward redistricting plan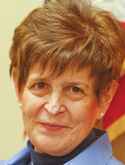 ---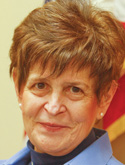 Photo
YOUNGSTOWN
The Mahoning County Board of Elections is proposing a redistricting map of Youngs- town's seven wards that counts registered voters and not the city's entire population.
The map also keeps all seven council members in their current wards with Annie Gillam, D-1st, about a street away from being in the 2nd Ward and Mike Ray, D-4th, about a street from being in the 3rd Ward.
The map has a range of registered voters from 6,123 in the 3rd Ward, which takes in much of the North Side, to 6,480 in the 4th Ward, which includes the upper West Side.
The maps, developed with software using census tracts, has main streets, including Glenwood, South and Wilson avenues, as boundaries.
"We did it while keeping all the current council members in their wards," said board Director Joyce Kale-Pesta. "I think it should make everyone happy."
But it doesn't.
Thomas Finnerty, associate director of Youngstown State University's Center for Urban and Regional Studies, which provided about a dozen maps to city council last year, said state and federal laws require the city's wards to be redistricted based on population and not registered voters.
A majority of city council members rejected YSU's maps about 10 months ago, saying they weren't satisfied with the new ward lines — with Gillam being the most vocal as her house on the East Side was moved to the 2nd Ward with her husband, Artis Gillam Sr., a former councilman, giving strong consideration to running for the 1st Ward seat next year when his wife can't run because of term limits.
Gillam and Councilwoman Janet Tarpley, D-6th, accused Finnerty of going behind their backs when he designed maps with five wards instead of seven at the request of other council members.
Gillam said she was certain there were options to keep her home in the 1st Ward.
"But we need to determine if it's permissible to do it by registered voter compared to population," she said.
Council voted last month to hire a company for $7,500 to $10,000 to redraw ward maps, but Mayor John A. McNally said the city administration won't pay for it as the maps from YSU are acceptable.
Council will meet with Kale-Pesta in the coming weeks to discuss the board's ward proposal.
The board is finalizing plans to reduce its 273 voting precincts by about 50, with a majority of the cuts coming in Youngstown, Kale-Pesta said. The proposal is likely to be done by the board's July 8 meeting, she said, and it would be easier to get new Youngstown ward lines done at the same time the precincts are being reduced, Kale-Pesta said.
McNally said Monday that he had doubts about the legality of using registered voters instead of population to redistrict.
"I appreciate the board's effort, but my concern is registered voters compared to actual citizens," he said. "I want the law department to determine if that's appropriate. It merits discussion. But my preference is for the number of citizens and not actual voters."
The city last redistricted about 30 years ago even though its charter calls for it to be done after every decennial census. Currently, the population in the seven wards ranges from 7,227 to 12,130, according to the 2010 U.S. census.
Kale-Pesta said the last Youngstown redistricting was done with registered voters.
Council said more than a year ago that it planned to have redistricting done in time for the 2015 election.
"This can't be done by registered voters," Finnerty said. "This is a flagrant violation of the state and federal constitutions, Ohio Revised Code and the federal Voting Rights Act. If this goes to a federal court, it would get bashed. You do a census for legislative districts. You don't do it to keep Annie happy. There's no way she should be in the 1st Ward. I can't believe the board of elections would think this is legal."
Ray and Councilman Paul Drennen, D-5th, also questioned the legality of the board of elections' map.
"It doesn't matter who votes, it's the population that counts when redistricting," Ray said.
"It's not the right way to redistrict," Drennen added.
Meanwhile, supporters of a charter amendment for the November general election ballot that would reduce the number of wards based on population are finalizing plans to start collecting signatures for the movement, said Drennen, who is part of that group.
Under the plan, if the population is between 40,000 and 79,999 — the 2010 census had 66,982 residents in Youngstown with the number continuing to drop — there would be five wards.
Population of at least 80,000 would keep the seven wards, but with the city's decreasing population, it is unlikely it will reach that number again. A city population of fewer than 40,000 would reduce the number of wards to three.
If the charter amendment is approved, it would give city council up to 30 days after the election results are certified to draw a map. If an agreement couldn't be reached, the mayor would be required to provide a map with balanced population either two or three weeks after city council failed. The precise time frame will be resolved shortly, Drennen said.