Busy construction summer planned at YSU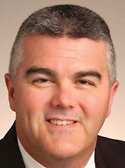 ---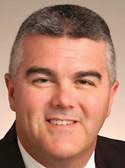 Photo
John Hyden, executive director of facilities
By Denise Dick
YOUNGSTOWN
Construction will be in full swing this summer at Youngstown State University.
"This is one of the most-aggressive construction seasons we've had in a long time," Richard White, YSU's associate director of planning and construction, told trustees at a committee meeting earlier this month.
The total is $10 million including those underway, being advertised or in development.
"They aren't big-dollar jobs, but they're spread out," said John Hyden, executive director of facilities.
Among the projects is completion of the Veterans Resource Center on Wick Avenue. The $1.25 million project by Adolph Johnson is expected to be done by late summer.
"We have lots of roof renovations going on across campus," White said.
Those include the roof on the Kilcawley House, $225,000; Ward Beecher Hall and the pedestrian bridge, $150,000; and DeBartolo and Cushwa halls, $1.15 million.
Elevator upgrades at Cushwa and the Maag Library total $900,000, and elevator renovations in the Lincoln Building total $555,000.
Melnick Hall renovations, estimated at $2.5 million from state capital funds, is the project that's in development.
Another project is the $644,000 renovation of the flooring in Beeghly Center.
Several years ago, the university had a cement overlay installed over the ceramic tile in the building, Hyden said. It looked good at first but deteriorated, and the company that did the work went bankrupt.
"We were left holding the bag," Hyden said. "It's been chipping up and it looks horrible."
The old tile is being removed and replaced with terrazzo tile.
The $760,000 DeBartolo Hall Phase 2 project involves work — from original wallpaper and tile replacement to restroom upgrades — on the second, third and fourth floors.
"We're basically renovating those floors, giving them a good face-lift and getting them renovated so they're current," Hyden said.
The M1 and M2 parking decks will be patched, sealed and caulked in the regular summer maintenance work. The project costs $450,000.