Struthers business owners expand to new storefront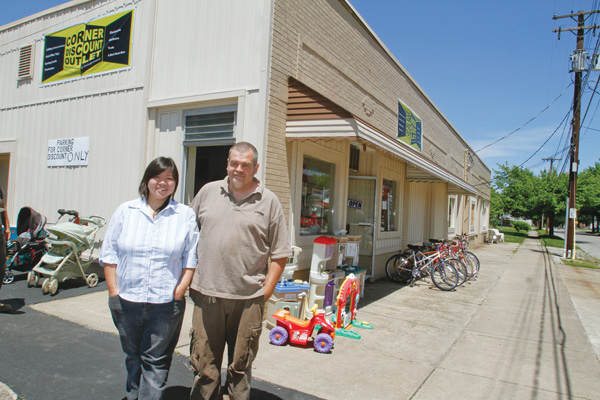 ---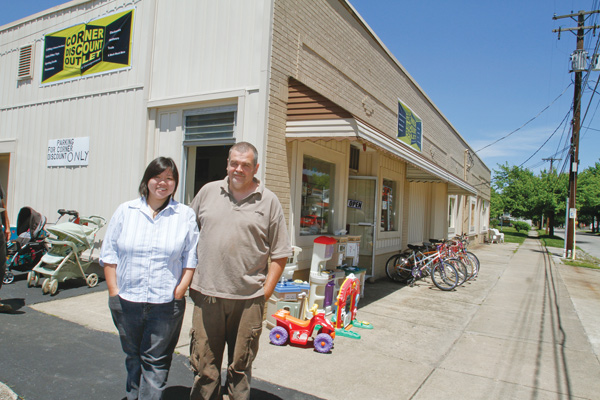 Photo
Ivy and Richard Sheeler, owners of Bound 2 Read, recently opened the Corner Discount Outlet at 563 Fifth St. in Struthers.
By EMMALEE C. TORISK
STRUTHERS
When Richard and Ivy Sheeler opened Bound 2 Read in a vacant storefront of their Elm Street building early last year, their goal was to unload some of the thousands of books they'd purchased impulsively years before at an auction.
That, and to share their love of books with others.
But what the husband and wife didn't realize was that, sometimes, a business can have a mind of its own. After a while, both the supply of and the demand for the secondhand items — such as artwork, clothing and knickknacks — they'd relegated to a small section of 329 Elm. St. "grew so big" they couldn't keep up, Ivy said.
So, at the end of April, the Sheelers moved the thrift and consignment section of their bookstore into a new building, one street over at 563 Fifth St., and christened it the Corner Discount Outlet. Business has been good — and even picking up as of late.
The store is open Tuesdays through Saturdays from 10 a.m. to 6 p.m., and Sundays from 2 to 6 p.m. It is open Mondays by appointment only.
"Prices are reasonable, and we try not to charge too much," Ivy said. "It's a small community, and we know people here. They want value for their money."
The Sheelers, who live in Struthers, carry a variety of items at the Corner Discount Outlet, such as appliances, furniture, sporting goods, toys and various collectibles. Perhaps their best-selling merchandise, though, is men's and women's clothing, which is available in sizes ranging from infant to 3X. The store also sells accessories, such as purses, along with shoes and luggage.
Richard noted that they eventually plan to expand the store's clothing offerings, and in particular want to stock a larger selection of plus-size clothing. There just aren't many places around that have affordable secondhand clothing in larger sizes, he said.
Both Richard and Ivy added that though they're looking to soon add more, the Corner Discount Outlet presently has no shortage of merchandise. They recently acquired a great deal of it from Robin's Junk Emporium, which was long located in downtown Struthers and closed last month.
Still, the Sheelers said they're always open to donations and consigners. After all, the store still has space, and anything valuable will be considered.
"We just try to stay away from anything junk," said Richard, who now mostly handles the bookstore, and is in the midst of inventorying and reorganizing it. "If you tried to have a yard sale and can't sell it, chances are we're not going to be able to sell it either."
Ivy explained that one of the best parts of her job is seeing what people bring in, whether those odds and ends were plucked from someone's grandfather's attic or had been lying unused around the house.
"If you ask me, everything [they bring in] is interesting," she said.
They're often surprised, too, which is exactly how Ivy and Richard described people's response to Bound 2 Read and then to the Corner Discount Outlet. It's something neither one expected, especially with the city's small population.
But some days, usually near the beginning and end of the month, business is so good they don't have time to sit down, Ivy said, adding that they hope to continue moving in that direction. Over the next few months, the Sheelers will "track what's doing good and what's doing bad" in terms of sales, Richard said, then adjust their stock accordingly.
He added that one positive sign came by way of the store's cash register, purchased from Craigslist. Before it arrived in Struthers, the cash register had called a thrift store in Hopewell, Va., its home for two years and three months.
In that time, according to its sales records, the cash register had rung up more than $194,000, with clothing being the strongest category of sales. This fact, Richard said, was "the basis for setting this whole thing up."
"We should be able to do something good, if we focus on what the people want," he added. "It was good encouragement."