Clubs for Kids Classic will benefit hospital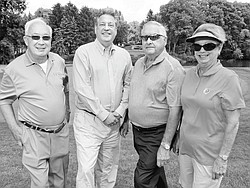 Photo
WILLIAM D. LEWIS | THE VINDICATOR Committee co-chairs of the Clubs for Kids Golf Classic are, from left, Jim Sisek, David Tod II, and Reid and Judy Schmutz.
Staff report
LIBERTY
The Youngstown Country Club, 1402 Country Club Drive, will be the venue Aug. 1 for the fourth annual Clubs for Kids Golf Classic to benefit Akron Children's Hospital Mahoning Valley.
Registration and lunch will begin at 11 a.m., and the golf tournament will begin at noon. Concluding the event will be a cocktail reception, dinner, presentation of prizes and a silent auction.
Team sponsorships and reception-only tickets are available on a limited basis.
The Clubs for Kids Golf Classic has raised more than $150,000 the past three years for the local programs and services of Akron Children's Hospital Mahoning Valley.
A Youth Clinic, sponsored by the Tod Family Foundation, will take place from 9 to 11 a.m. The clinic will feature three stations for young golfers in three age groups: 5 to 8, 9 to 11 and 12 to 14. It will include an observation station focusing on grip, stance, posture and alignment; a hands-on chipping and pitching instruction station; and a putting contest.
The clinic will conclude with lunch, and each young golfer will receive a goody bag. The cost to participate is $10.
Event sponsors follow: Tod Family Foundation, youth clinic sponsor; Farmers National Bank and Farmers Trust Co., cocktail reception sponsors; the Charles and Alice Schmutz Foundation, dinner sponsor; Huntington Bank, Jane F. Lamb Charitable Foundation and Preston Auto Group, corporate sponsors; Bob & Chuck Eddy Chrysler Dodge Jeep, Philip H. Maynard and Sweeney Chevrolet Buick GMC, lunch sponsors; and A.F. Necastro, A.P. O'Horo Co., Cohen & Co., The DeBartolo Corp., Gasser Chair, Hanger Clinic, Harrington, Hoppe & Mitchell, Healthridge Medical Center, Homecare with Heart, Dr. Elena Rossi, Simon Roofing, Strollo Architects, Talmer Bank & Trust, WFMJ-21 TV and York Mahoning Mechanical Contractors, team sponsors.
The Clubs for Kids committee comprises Reid and Judy Schmutz, Jim and Linda Sisek and David Tod II, honorary chairs; Susan Berny, Kim Brauer, Ray Calcagni, Jean Clacko, Betty Cmil, Julie Costas, Roseann Cullen, Georgia D'Andrea, Heather Davis, D.J. Depp, Mary Dulay, Gayle Kelly, Margaret Nigro, Patty Preston, Alyssa Preston, Judy Rafoth, Karen Rolfe, Sperry Rongone, Dr. Elena Rossi, Debbie Shattuck, Lois Smith, Gregg Strollo, Cheryl Tarantino, Kelly Verostko, Amanda Watanakunakorn, Pattie Welsh and Marilyn Wurst; and staff members JoAnn Stock, Allison Engstrom and Candace Madden.
For registration and other information call 330-746-9122 or visit www.akronchildrens.org/clubsforkids.