Vindy reporter joins Hubbard cops training to think fast
By JEANNE STARMACK
starmack@vindy.com
HUBBARD
Reporter Shoot Out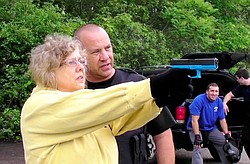 Video
Vindicator reporter Jeanne Starmack participates in a training exercise with the Hubbard PD.
Hubbard Police Training Program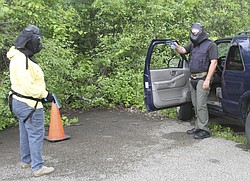 Gallery
The police cruiser followed the dusty blue Chevrolet Blazer through the parking lot beside the empty industrial building on Myron Street.
The lot was narrow and deep. Slowly, the Blazer made its way back, until finally, the blue and red flashes started pulsing from the Crown Victoria's light bar.
The Blazer stopped in a small spot of desolation. A tree line to the left hid the two vehicles, and to the right, the parking lot L-shaped over to the back of the building and some overgrown property behind it.
Marcus Coonce got out of the Crown Vic. He's been a part-time patrolman for Hubbard since January. It's his first job in law enforcement. He approached the Blazer, where the driver also was getting out.
He was clearly agitated.
"What did I do?" he yelled to Coonce as Coonce approached. "What did I do? I didn't do anything!"
"Get back in the car!" Coonce told him.
The driver turned toward the open car door and bent over. As he stood back up, an automatic rifle was visible in his hands.
Coonce's Glock was up.
Before the driver knew what was coming, Coonce shot him seven times.
But the only wound the "driver," Hubbard Sgt. Chris Moffitt, had to show from all that semiautomatic Glock fire was a nickle-sized piece of raw flesh on his arm, its missing skin dangling uselessly beside it.
"He engaged me first," Moffitt said. "That's what he should have done."
Thursday, Hubbard police began two days of Simunition sessions — training exercises that give the officers a chance to think on their feet in scenarios staged by Moffitt, their trainer.
They use semiautomatic Glocks and automatic rifles exactly like the ones they would use on the job, except the bullets have soap tips. They don't penetrate so they don't kill, but they fire just as fast and as hard.
Hence, the missing skin on Moffitt's arm. He and the other two officers who were at the 10 a.m. training, Coonce and Joe Marando, a full-timer who's been with the department two years, didn't see the need for long sleeves.
I did.
When Police Chief Jim Taafe invited me to participate in the training, he showed me the bullets. I brought the thickest hoodie I could find.
The city authorizes $40,000 a year for police training, Taafe said, which includes use-of-force policy updates, shotgun drills, school shootings, criminal interrogation and legal updates.
The Simunition, said Moffitt, is as close as officers can come to being in real situations without being shot.
"It's huge training for us on decision-making and when to use deadly force," he said.
In the parking lot, the training would go on all day in two-hour blocks.
Marando had just confronted two suspicious people behind the building and unfortunately, it ended in a gunfight between him and one of them. His gun jammed, but he cleared it and got back in the fight, something that doesn't happen on a range, Moffitt said.
"On the range, police have been babied," Moffitt said, because an instructor comes over and clears the gun.
It was getting later in the morning, and it was muggy. Moffit asked me if I wanted to be a police officer or a bad guy. I decided I wanted to try being a police officer, and I put on the stifling hoodie, helmet and neck and groin protectors.
I went to sit in the cruiser, which was parked about 10 feet away from the Blazer, until Moffitt called me out.
My scenario was a suspicious man sitting in the Blazer in the parking lot. I had to find out why he was there. I got out of the cruiser and approached the Blazer, stopping about 5 feet away. I'd learned that from watching earlier scenarios. The officer doesn't always have to go to the window.
My suspicious man was Moffitt.
"Hello, sir," I called to him. "What are you doing?"
"Aaah," he said, shrugging. He looked at me, out of the corner of his eye. "Just sitting here. Kind of depressed."
"Can I help?" I asked.
"Nooo. My wife left me. I'm just kinda depressed."
"Can I help you? Why don't you get out of the car?" I said to him.
He began to get belligerent. "You know, I don't want to live anymore. Just get out of here." Suddenly, he put a Glock to his temple.
Hmmm. I wanted to stop a suicide, that's all I could think of.
"Sir, put the gun down. You don't want to do this."
Suddenly, he pointed the gun at me. I stood there. "You don't want to shoot me," I said.
Moffitt got out of the car and walked away. He turned and began to fire. Finally, I fired back.
The first words out of my mouth right after, to Vindicator photographer William D. Lewis, were: "I didn't want to shoot him!"
Moffitt had an easy time picking out my mistakes. When the gun came down from his head toward me, I likely would have died, he said.
In a situation where someone is suicidal, there may be time to take cover, call for backup and negotiate, he said.
"But what if he just raped a little girl and he just said, 'You lay on the floor, and say one word and I'm gonna kill this cop and kill you,'" Moffitt said. "There's just so much we think about. So much that goes through your head."
More like this from vindy.com