Students learn the dangers of distracted driving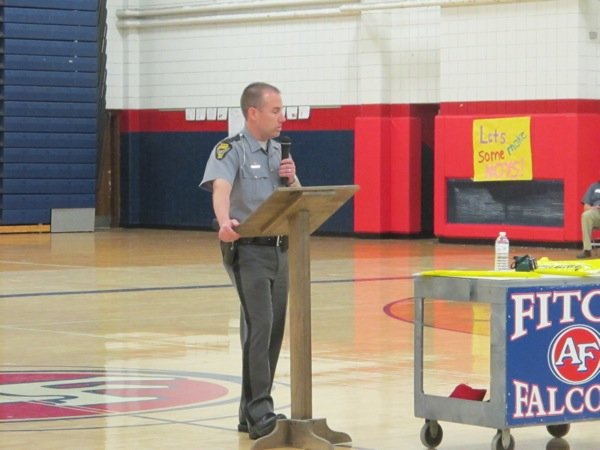 ---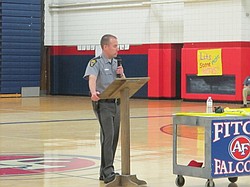 Photo
Neighbors | Tim Cleveland.Trooper Eric Brown of the Ohio Highway Patrol spoke to Austintown Fitch High School students about the dangers of driving while impaired, whether that be driving while texting or after having consumed alcohol.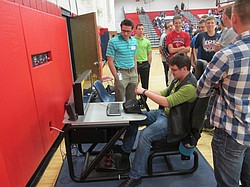 Photo
Neighbors | Tim Cleveland.An Austintown Fitch High School senior sits in a driving simulator, which tests the ability to drive. The simulator was one of the activities during the school's Act out Loud campaign to educate on safe driving.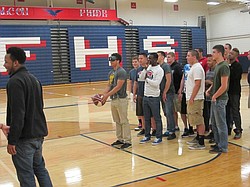 Photo
Neighbors | Tim Cleveland.Austintown Fitch High School students shot free throws while wearing goggles to impair their vision during activities at the school's Act out Loud campaign to educate students about safe driving.
By TIM CLEVELAND
In an effort to curtail distracted driving by teenagers, Austintown Fitch High School hosted an event called Act out Loud on May 16.
The event came about due to the funding of the Future Business Leaders of America and the help of the Ohio Department of Transportation.
"With FBLA, we look for fundraising and there's a competition with community education," said Tina Kinnick, a business education teacher at Fitch and an advisor with FBLA. "They choose 220 schools out of the country and we were one of them. We applied on time, we made a poster for the competition, we made a T-shirt for the competition.
"They gave us a stipend of $800 to help us with the rally. Once we have the rally, we reported it, we took pictures and all kinds of things and we send that to the Act out Loud campaign. We could win anything from another $800 to $2,000 - $10,000, depending on what they liked about the rally."
There were three speakers at the rally - Trooper Eric Brown of the Ohio Highway Patrol, Susan Viars, a Coordinator with Mahoning Safe Communities and Officer Jeff Toth of the Austintown Police Department.
Each spoke for 10-15 minutes to the approximately 300-400 students in each grade level, and each received an hour in the school's gymnasium. For the rest of the hour, students took part in several activities, including wearing impaired vision goggles while shooting free throws, texting "don't text and drive" and signed banners that were on display in Fitch's halls.
Kinnick said 32 of her FBLA students helped organize the rally. She said each speaker did very well in getting their messages across.
"Everybody did a great job," she said. "They knew our focus was the texting and driving, the distractions while driving, impaired whether it was alcohol-related or drug-related, safety belts and speed. They touched upon all of that. Officer Brown gave us some scenarios and some stories that related to the kids. I noticed that with the storytelling, they were focused."
Brown was a last-minute replacement for another trooper, who was unable to speak due to a scheduling conflict.
"I did some research last night online and looked up distracted driving," he said. "There's a lot of information we have at the post on distracted driving and the trends that are going on in the country and statistics. I put it together and kind of winged it today. "
During his speech, Brown told the story of the first fatality he covered as a trooper. He said three teenagers, none older than 16, went on a joy ride in one of their parent's cars. Traveling between 100 and 110 mph, they lost control and crashed. All three were ejected from the vehicle and killed.
Brown said telling a story like that is a good way to get the students' attention.
"A lot of times when you can kind of put things in perspective, tell them a story that you've seen something they can relate to, I think that goes a lot further than somebody talking about statistics, telling them don't text and drive, don't drink and drive," he said. "If you can give them a story in which they can relate to, I think that hits home a little bit more than just going up there and preaching to them."