Shepherd of the Valley hosts annual art show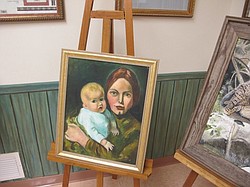 Photo
Neighbors | Tim Cleveland.One of the pieces of art on display at Shepherd of the Valley Poland Campus' wine and cheese art show was this one done by the late Doris Ockerman.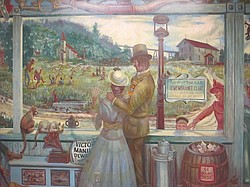 Photo
Neighbors | Tim Cleveland.Former Shepherd of the Valley Poland Campus resident and Rayen High School art teacher the late Jim Benninger painted the mural on display in SOV Poland's gallery.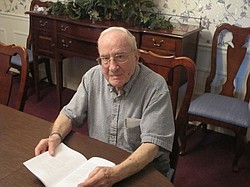 Photo
Neighbors | Tim Cleveland.Shepherd of the Valley Poland Campus resident Franklin Sherman read from his book of poetry titled "Caring and Sharing" during the wine and cheese art show.
By TIM CLEVELAND
As it has for several years, Shepherd of the Valley - Poland hosted its annual art show on May 23, displaying the art work of residents both currently living there as well as deceased.
"There's quite a few, some that are still with us and some that have passed away," SOV Poland associate director Kelly Stansloski said. "A lot of them, when they are no longer with us, they donate their pictures, so even though they're no longer here physically, we're able to continue remembering them.
"Between our assisted and our independents, we just have so many talented residents. Some have been artists when they were in elementary school and middle school, and then some took it up when they were 98-years-old. We just find it remarkable."
Stansloski said that while a lot of the art work stays in the gallery permanently, there are new pieces added.
"We try and change it over every once in a while," she said. "Some years we have more residents who are into the art than others so we change it over more frequently."
The art work consisted of paintings, oils and needlework, among others.
A large mural on the back wall of the gallery was painted by the late Jim Benninger, a former SOV-Poland resident and art teacher at Rayen High School.
"He spend hours and hours just drawing our pictures," Stansloski said. "It seems like every time we come in here we find something new. He [also] did our chair rail and mural."
In addition to the art work on display, SOV-Poland resident Franklin Sherman gave a reading of his poetry to the art show's attendees.
Sherman was born in Lebanon County, Pa., and said he was "98 1/2, to be close." He recently published a book of his poems, "Caring and Sharing: Religion, Faith, Love of God in Poetry."
Sherman said he wrote his first poem 80 years ago.
"There's satisfaction in sharing the poetry," he said. "It's just sheets of paper, I've got loads of them up there [in my room] now. I started out in 1934 when I was in high school. I was very concerned about the wars we were having and also about agriculture because I thought I would end up in agriculture. I wrote two poems about that; today I'd write them a little bit different.
"I hadn't written anything again until 1975 when my first wife [Madelyn] passed away in November 1974. When I was in the service I would write letters home and receive them. Invariably, I would wind up [writing] a poem. Unbeknownst to me, she had saved them in a book and had hand-written them out to make sure she had them. I didn't know that until she came down with cancer in 1974. It was that book that was my first book of poetry."
Sherman estimated he has written hundreds of poems. He said two of his favorites, "The Better Church" and "Expressions of Life," are in "Caring and Sharing."
"I have to admit that certain poems, I'm attached to," he said.
Sherman said "The Better Church" is about people of different religious denominations getting along with each other despite their differences. "Expressions of Life" is about being rich, not in monetary terms, but in terms of quality of life.
Sherman said he is working on two other books, the majority to be given to his family.