Poland Historical Society takes trip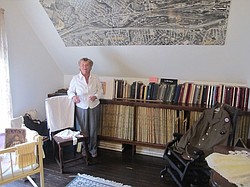 Photo
Neighbors | Tim Cleveland.Marian Kutlesa of the Struters Historical Society explained the history of the library of the Struthers Historical Society Museum.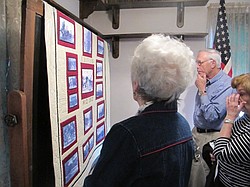 Photo
Neighbors | Tim Cleveland.Members of the Poland Historical Society examined a quilt with the inscription "Struthers 1902-2002" that was on display at the Struthers Historical Society.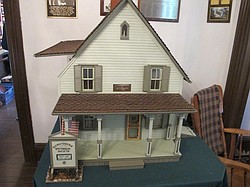 Photo
Neighbors | Tim Cleveland.A replica of the Struthers Historical Society house was on display. The inscription read "An original work of Art Cashbaugh 1993." Cashbaugh is a Struthers resident who makes models.
By TIM CLEVELAND
For the most part, the Poland Historical Society hosts its meetings at the Little Red Schoolhouse in Poland. For its meeting on May 20, the organization hosted its meeting at the Struthers Historical Society Museum, located at 50 Terrace Street, and received a tour of the building afterward.
The change came about due to an invitation from Struthers Historical Society founder and president Marian Kutlesa.
"They asked me to come as a guest speaker and then I invited them to come and hold a meeting here," she said. "We're open for any club or organization that is small enough to hold a meeting here and give them a tour following that."
"She came to one of our meetings a couple months ago," said Poland Historical Society vice-president Laurie Fox. "She introduced herself and was interested in the Poland Historical Society and she presented some information to us and invited us to come down."
Kutlesa said she founded the Struthers Historical Society in the mid-1980s.
"I worked for the [Hometown] Journal [newspaper] and I noticed how many people were passing away and I thought, 'Oh my God, once it's gone it's gone.'" she said. "It's lost forever, so I went to City Hall and put a notice in the paper for anybody interested and 26 people showed up. Mr. [Alexander] Frankfort built this house and carried Alma [Frankfort] into it as an infant. She said she'd live to be 100 and she did. Nobody else has ever lived in this house but the Frankforts. She lived her all but the last six years of her life. I wrote to the nursing home [where she was residing] and said, 'Would you please just contact me. The historical society would welcome it. Mr. [Howard] Mohr [Alma's nephew] said, how would you like a house?' We had $700 to our name and we took it and in three years we restored it."
The Frankfort home was built in 1884 after Alexander Frankfort purchased the land from Thomas Struthers for $190. She passed away in 1984 and her heirs donated the residence to the Struthers Historical Society in 1986. Renovations cost approximately $20,000 and were completed in 1989.
"I don't know too much about it other than what I have heard," Fox said. "I think it's fascinating. I just came through the back door and wondering how people raised families in the house. I'm anxious to see the upstairs and see how maybe it was back in the days when it was built. [Kutlesa] said it required a lot of work over the years."
After donating the home, Mohr returned many original items to it that had been removed after his aunt's death. The museum has its original woodwork, while new flooring was installed, the furnace and air conditioning were donated and the tin ceiling was donated by Campbell Schools.
"Some of the biggest things were donated," Kutlesa said. "Campbell Electric donated lamps, just so many things that came our way once they saw we were going to start a historical society. Alice Flack makes quilts. She made quilts and we would raffle them off."
Fox said taking the tour can help people gain knowledge about the area's history.
"It helps us get a hold of our past, our heritage," she said. "My dad's family grew up in Struthers so I know there's a lot of things here that are going to be a flashback for me. I'm just anxious to see the pictures and some of the historic things and the heritage."