Optimist Club hosts monthly meeting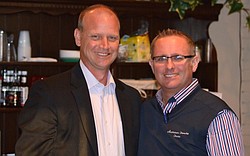 Photo
Neighbors | Submitted.The Austintown Optimist Club had their monthly dinner meeting at the Saxon Club May 13. Pictured are Mike Galle and Township Trustee Jim Davis.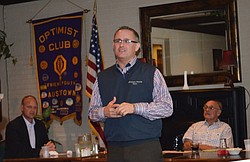 Photo
Neighbors | Submitted.Austintown Trustee Jim Davis is pictured giving his report on Austintown township to members of the Austintown Optimist Club at the monthly dinner May 13.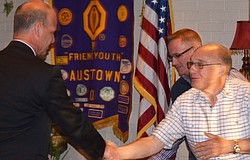 Photo
Neighbors | Submitted.Austintown Optimist member Dick Stoy is pictured thanking Mike Galle and Austintown Trustee Jim Davis for their informative talk on the township and the progress on the new Racino being built on State Route 46.
The Austintown Optimist Club recently had its monthly dinner meeting at the Saxon Club. It was an unusual meeting as the club hosted two speakers.
Austintown trustee Jim Davis spoke to the gathering concerning changes in the township. He reported on more than one million dollars being earmarked for paving projects in the township this year. He also spoke on the ABC water district and events that are about to transpire with it. His report included information on the police department and recruitment of new officers, the fire department and grants that it has earned along with reports on the parks department, the children's splash pad at the Austintown Township Park, the dog park, zoning department, the senior center, this year's fireworks display and finally the new Racino currently under construction.
Davis then introduced the second speaker of the evening, Mike Galle. Galle is a representative of Penn National, the mother company of the Racino.
Galle informed the club about the progress on construction and other details of the gaming facility which will be a new job creator in Austintown. He also gave some statistics concerning this new business venture. Horse racing is scheduled to begin on Nov. 24 with 100 races scheduled for the typical race season. Customers will be able to view the races from an indoor facility with 1000 seats and buy refreshments from a sports bar. Penn National will host two job fairs to help staff the Racino. The first fair will be in Austintown and the second will be in Youngstown. Between 400-500 jobs will be created with approximately 90 percent being local hires.
The Austintown Optimist Club would also like to inform members of the community that they will again be sponsoring the annual fishing derby for the special needs children of Austintown. Contact any Austintown Optimist Club member for more information.