North Elementary kindergarten class picnic

Photo
Neighbors | Submitted.North Elementary kindergarten students (clockwise from left) Gracie Hunter, Anthony Richmond, William Craven, Ella Bailey, Julianna McDougal and Maya Anzevino played games during the end of the year picnic.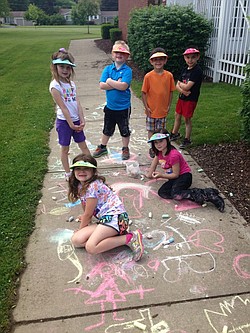 Photo
Neighbors | Submitted.(From left) Adison Draa, Delaney Cozart, Colt Arnold, Vinny Colla, Hannah Mason and Dominic Bass drew with chalk on the sidewalk during North Elementary's kindergarten end of the year picnic.
By TIM CLEVELAND
On June 3, North Elementary celebrated the end of the school year with a picnic for its kindergarten class. Thirty-six students participated in the picnic, which is a long-standing tradition at the school.
The students participated in a variety of activities, including corn hole, an obstacle course, relay races, bingo, visor making, parachute and side walk chalk. They also ate pizza, chips and popsicles.
"We had a lot of fun, and we enjoyed spending time together," said kindergarten teacher Kirsten Jacobs. "It was nice just to see the kids playing and interacting with each other in a way that we don't do in the classroom on a daily basis."
Fellow kindergarten teacher Kendra Gura agreed, saying, "I thought it was a wonderful day."
Kindergarten students Peyton Miller and Delaney Svatosky said they both enjoyed the day's activities.
"We got to have lunch in our classroom," Peyton said.
"It was the best day ever!" Delaney said.