Open Arms Community Outreach fills a need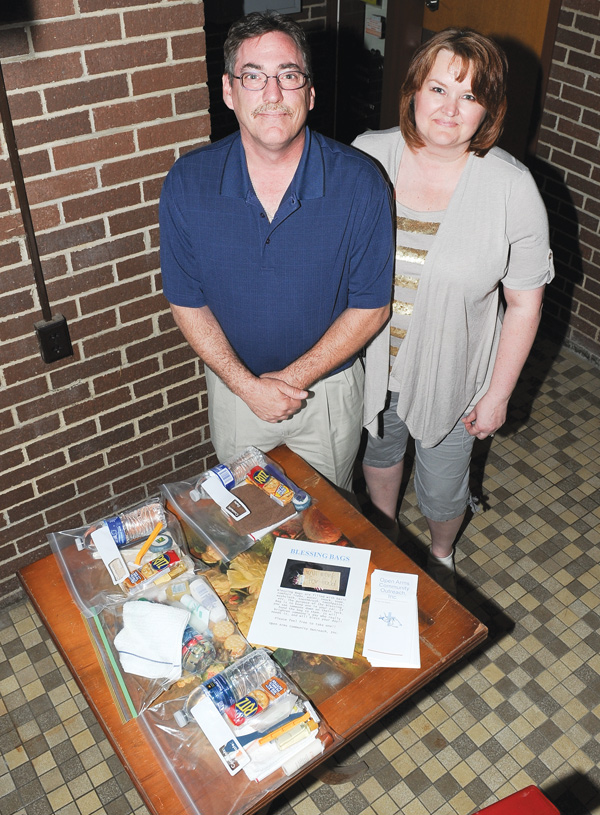 ---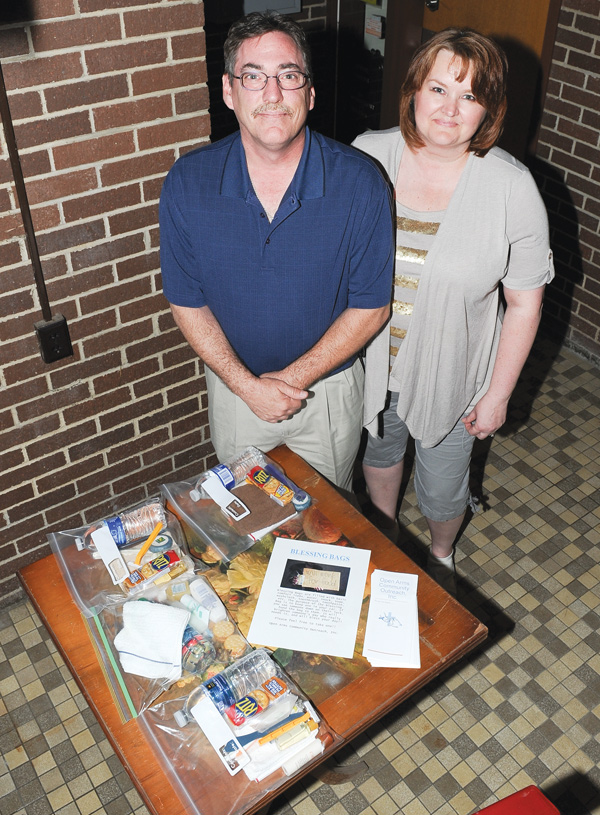 Photo
Wayne Murray is founder and director of Open Arms Community Outreach, and his wife, Angie, is co-founder. "Blessing bags," such as those shown here, are filled with personal-care items and given to people in need and are one part of the Open Arms ministry.
Outreach Ministry welcomes those in need with ...
By LINDA M. LINONIS
boardman
When Wayne Murray was 3 years old, he survived a car accident that killed his family.
In answer to why, he believes he was destined to start Open Arms Community Outreach. "I was called to this ministry," he said. "I was called to do this," he said of "helping the homeless and working poor."
And if you ask him why he founded it, he'll reply, "Do you want to hear the story?"
He'll tell how he and his wife, Angie, co-founder, saw a documentary on a similar project in California. It moved the couple to start the outreach. "We had the conversation June 12, 2012," Angie Murray said.
Three weeks later, the Murrays and other volunteers set up tables in the parking lot across from the St. Vincent de Paul Society dining hall, 208 W. Front St., on a Saturday morning when breakfast is served. Now, at 12:30 p.m. the first, third and fifth Saturdays of the month at that location, Open Arms sets up its tables, which offer clothing and sack lunches. Personal-care items are distributed the third Saturdays.
During inclement weather, Brian Antal, president of the St. Vincent de Paul Society, invites Open Arms to set up in the dining hall.
"The people are friends in need," Wayne Murray said of the homeless and others who seek out items from Open Arms. At the Saturday setups, the Murrays said as many as 100 people have stopped by.
Wayne Murray said Open Arms is supported entirely through donations of items and money from individuals, churches and community groups. The outreach has applied for 501(c) 3 status; it has its nonprofit charter number through Ohio.
In May, the outreach moved into office space at 5111 Market St. Suite 1B where it stores personal-care items, clothing and food. The office space is made possible through monetary contributions.
As clothing donations come in, Angie Murray said she sorts according to gender and size. There is space for men's and women's clothing, nonperishable food items, blankets and sleeping bags. Other clothing that's suited for job interviews is found on a rack.
"There's dress clothing to casual. ... It fills a need," Angie Murray said of the apparel. "I think it helps people feel good to get clean clothing," she added.
"People know someone cares," Angie Murray said. "Some have felt like nonpersons. This makes a difference," she said.
The Murrays said some of the regulars know their names and seek out volunteers. Angie Murray said some high-school students have volunteered to fulfill their school requirements. "It's about a caring spirit," she said. Volunteers are welcome.
The couple said news of the outreach has spread by "word of mouth" and on Facebook. "It's people sharing things," Wayne Murray said.
On a recent Tuesday night, two Boardman women stopped by to drop off donations. Heather Oyler said her husband learned about Open Arms from Wayne Murray and told her about it. "I felt the need to help," Oyler said. "It's also a good way to teach my family about giving."
Oyler said she liked Open Arms effort because "it stays in the community."
Laura Szabo said her family "has so much, while others have so little. It's a way of giving back."
Both said they liked the idea that the clothing, blankets and personal-care items that they donated were "going to those who really need it."
They planned to spread the word about Open Arms and gather donations.
Wayne Murray fits the ministry into his life that includes his job as a delivery driver. His wife, a medical transcriptionist, recently found out she's losing her job. "I'm looking, but it's not easy," she said, noting in different situations, a job loss and no paycheck can put people's lives into a tailspin. The Murrays attend The Gate Church in North Lima.