Former Niles funeral director sent to prison, ordered to pay restitution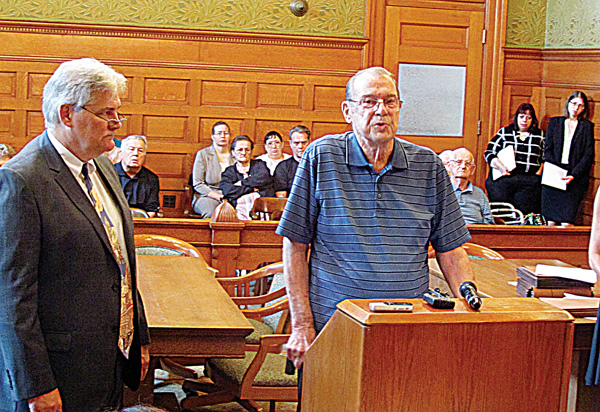 ---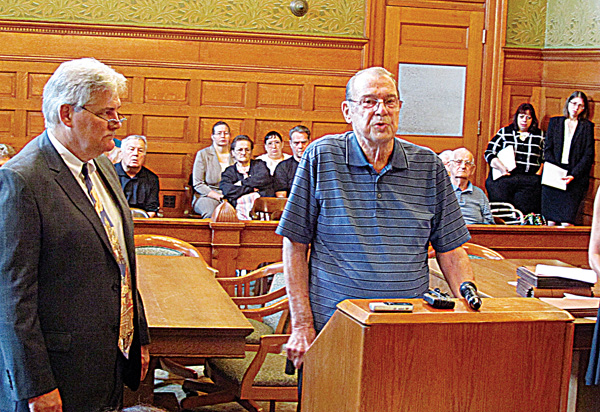 Photo
John Bruce Barton spoke in court to Judge Ronald Rice on Wednesday asking for former Niles funeral director Robert P. McDermott Sr. to receive 20 years in prison for the theft of $270,000 from about 50 of his former customers, including Barton. At left is Chuck Morrow, assistant Trumbull County prosecutor. Many other victims were in the courtroom behind Barton.
By Ed Runyan
WARREN
Robert P. McDermott Sr., a former Niles funeral director who pleaded guilty to 10 felony charges for stealing at least $270,000 from about 50 of his customers, will spend three years in prison.
On Wednesday, Judge Ronald Rice of Trumbull County Common Pleas Court said it appears that what McDermott did was "kind of like a Ponzi scheme," where money from new customers paid for the services to earlier customers.
McDermott, 52, of Lincoln Avenue in Niles, failed to put money that customers paid in advance for funeral services into insurance policies, annuities or trusts as promised. Chuck Morrow, assistant Trumbull County prosecutor, told Judge Rice that $235,000 of the $270,000 in thefts involved the elderly.
Insurance companies "honored" the policies for some of the victims even though McDermott never forwarded the money from the customers to the insurance companies, so about $110,000 has been paid to the victims.
Other theft victims may receive compensation through civil suits or through the restitution of $500 per month that Judge Rice ordered McDermott to make once he leaves prison. Morrow said prosecutors will oppose McDermott getting out of prison early.
Several of McDermott's victims spoke in court, one of them seeking a 20-year prison sentence, another emotionally calling McDermott "lower than low," to "take advantage of people at the time of death."
Charlie Gibson said he trusted McDermott because McDermott's brother had handled funerals for him before he started using Robert McDermott's funeral home. But Robert McDermott was incapable of running a funeral home, Gibson said.
"At the time of death, you expect you've got everything paid, you expect everything's taken care of, and you come to find out, no," Gibson said with emotion.
"He's gone out and spent all your money, already lived high [on] the hog, already had his good times. Us poor people, we sit back and do without. I think he's lower than low."
Sisters Roberta and Janet Strohmeyer said they and their mother are concerned about how they will pay for the funeral for their 94-year-old mother when she dies since McDermott didn't set aside the money they paid in advance. No insurance company has offered to help.
Janet said McDermott told her he understood the Strohmeyer family needed "affordable funeral care. He said he was doing this out of friendship and charity, but there's no charity in people's having to go through what we're going through," she said.
"We have no idea where we're going to get enough money now to bury my mother," she said, adding, "I trusted him. I felt we were with a friend, and our trust has been violated."
A short time later, McDermott apologized "for the way my business turned out. I ran my business through my heart, not through my wallet. And when you do that, you make mistakes."
McDermott said he "didn't pay attention" to his business, but he didn't "live high [on] the hog" and "never used any money for me. I made $12,000 a year, and that was all. I am very, very sorry for the people who are affected by this. It was not [my] intent to harm them."
McDermott pleaded guilty last month to theft from an elderly person, theft, tampering with records, forgery and violations of pre-need funeral contracts.
The Ohio Board of Embalmers and Funeral Directors permanently revoked the licenses of McDermott and his funeral home in July.
McDermott's attorney, Michael Scala, told Judge Rice the insurance companies that never received the pre-need money from McDermott are legally bound to pay for the funeral expenses for McDermott's customers, but Vanessa Niekamp, executive director of the Ohio Board of Embalmers and Funeral Directors, said that is only partly true.
McDermott had lost his privileges to enter into pre-need contracts with some insurance companies, and those insurance companies are not required by law to honor his customers' prepaid arrangements, she said.
Niekamp said McDermott's thefts have hurt the reputations of all funeral directors and caused many people to refrain from making prepaid arrangements.
One of the best ways to ensure that a funeral home has invested the money correctly is to check with the insurance company that purportedly received the money, she said.
Such companies also are required by law to send a notice to the prepaid customer within 45 days of the contract being signed, she noted.