Darby-Roth engagement is announced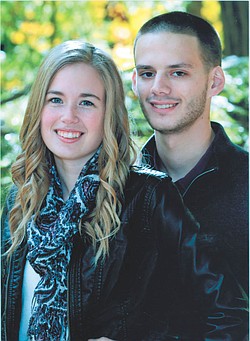 Photo
Alexandra Darby and Matthew Roth
AUSTINTOWN
Alexandra Darby and Matthew Roth, both of Austintown, are announcing their engagement.
Her parents are Katie Darby and Allen Darby, and his parents are Monica Roth and Mark Roth. All reside in Austintown.
An open wedding is being planned for 1:30 p.m. July 12 at Immaculate Heart of Mary Church. Invitations will be issued for a reception that will follow at Holiday Inn in Boardman.
The bride-elect is studying middle childhood education at Youngstown State University. She is a server at Charly's Family Restaurant.
Her fiancé is studying communications at YSU and is a sports reporter for WFMJ-TV in Youngstown.