Published: Mon, June 9, 2014 @ 1:44 p.m.
World Cup Soccer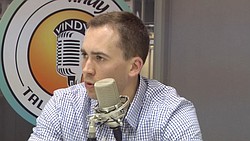 Video Set
VTR Sports: Soccer

Podcast Episode
Kevin, Curtis, and Ryan of The Vindicator Sports Desk gather around to talk about the World Cup.
We already offer Vindy Blitz for American football... on June 10, we'll be offering Vindy Blitz Futbol!
In other words, Vindy Radio Sports will be live 5 p.m. June 10 for a discussion on the 2014 FIFA World Cup!
Vindy sports editor Ed Puskas as well as Vindy reporters Kevin Connelly, Doug Chapin and Ryan Buck are set to participate in the discussion, offering their views on the chances of Team USA in a quest for the cup, and more! Local soccer experts may also stop in for the discussion.
Go to vindy.com/radio to listen to the show live, or vindy.com/mobile/vindy-radio to listen from your smartphone.
Click here to listen to the show. Follow @vindysports on Twitter for all the sports coverage you need!
Vindy Talk Radio Studio: 330-333-4454