Staffreys' 70th anniversary is celebrated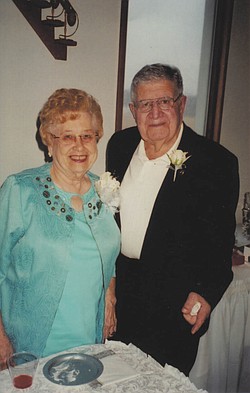 Photo
Mr. and Mrs. Dominic Staffrey
CANFIELD
Mr. and Mrs. Dominic Staffrey of Canfield celebrated 70 years of marriage at a buffet dinner hosted by Mrs. Staffrey's brother, Edward Kreitzburg of Berlin Center, and his wife.
The couple were married April 1, 1944, in Jacksonville, Fla., where Mr. Staffrey was training for overseas service.
He was captured by the Germans and was a prisoner of war. After his release he started a construction business and was a bricklayer and stone mason.
He drove and trained harness horses, setting a world record in 1977 with a mare, Missouri Time, and was recognized by the US Trotting Association as an outstanding driver. The mare has been placed on the Ohio Horse Racing Wall of Fame. He remains involved with racing.
Mrs. Staffrey was secretary and treasurer of Canfield Harness Horse Association for 24 years and served as director on the board of Ohio Harness Horsemen's Association. She retired in 2004.
The couple are members of Christ Church in Boardman.